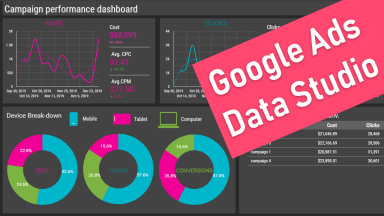 Campaign Performance Dashboard
This Data Studio dashboard shows data from Google Ads in one-screen view taking real-time data directly from Google Ads.
Acquire nonprofit license for $25.00
Add to cart
Add to bookmarks
Further information
1. How can I connect the dashboard to my Google Ads account?
I will help with the connecting process once the order is placed.

2. Can I print the dashboard as PDF?
Yes, Google Data Studio allows saving the dashboard in PDF.

3. Can I schedule auto emails of the dashboard?
Yes, Google Data Studio provides the option to send scheduled PDF reports from the dashboard.
You can use the Campaign Performance Dashboard perfectly for any Google Ads data.