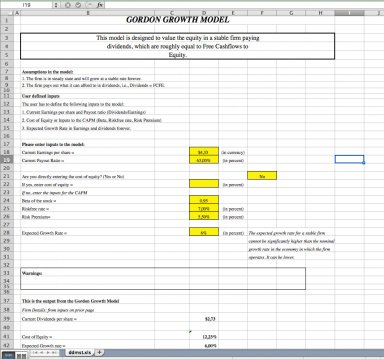 Gordon Growth Excel Model
An Excel Valuation Model to value the equity in a stable firm paying dividends, with stable growth
Prof. Aswath Damodaran offers you this Best Practice for free!
download for free
Add to bookmarks
Further information
This is the output from the Gordon Growth Model

- Current Dividends per share
- Cost of Equity
- Expected Growth rate
Best suited for firms growing at the same rate as the economy and paying residual cash as dividends.

Assumptions in the model:
1. The firm is in steady state and will grow at a stable rate forever.
2. The firm pays out what it can afford to in dividends, i.e., Dividends = FCFE.