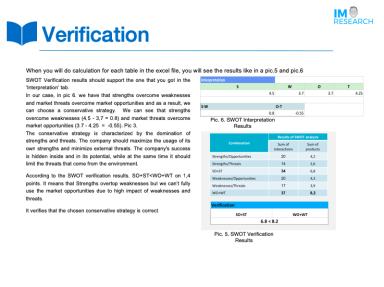 Advanced SWOT analysis. - Excel Template and Power Point Guide
Get access to the guide on how to conduct an Advanced SWOT analysis and to leverage an industry's opportunities.
Acquire business license for $27.00
Add to cart
Add to bookmarks
Further information
- Get the problem you are going to solve
- Set new or reaffirm strategic goals
- Make up a thought-off plan of action
- Get insights on which marketing strategy to choose
- Initiate further analysis
- You feel stuck and don't know where and how your business needs to move
- You need to reassure yourself and management that the chosen plan will be profitable
- If you fear that the existing threats overrate all opportunities and strength of your business and industry
- If your business is new and you need to understand the current state of the industry - SWOT analysis is a part of the planning process
- You don't know what kind of marketing strategy you should choose
If you search for a ready-made solution of your current business problems or a tailored plan on how to grow your business - Advanced SWOT analysis helps to initiate further analysis and build a guiding policy for leveraging industry opportunities.