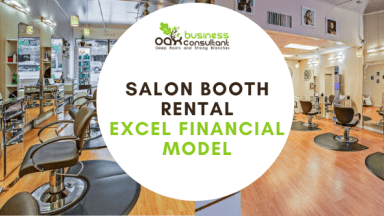 Salon Booth Rental Excel Financial Model
This Salon Booth Rental Excel Financial Model provides a complete financial framework for your booth rental business

by Sadaf Abbas
CEO- Oak Business Consultant
Follow 35
Description
The Salon Booth Rental Excel Financial Model most dynamic and user-friendly template to fulfill your business financial planning needs. It can measures all your online busienss data accurately and in real-time. It allows you and your potential investors to drill into financial details as much as needed for a 5 years financial projection, company valuation summary, and a complete cash-ins and out statement, which will improve productivity and, ultimately, provides a stable financial environment in your company.

If you consider entering the beauty industry, you need to have an accurate financial estimation and projection to show to potential lenders and investors. Our versatile Salon (Booth Rental) financial model, designed and developed by the Oak Business Consultant, will provide you the assistance to compute the startup summary, detailed monthly and yearly profit and loss statement, and KPI to measure business performance in detail.

Salon (Booth Rental) Excel Template includes the properties' business case to utilize them as short-term rentals to generate income. The model contains the three financial statements and the cash flows and calculates the relevant KPI's, Financial Ratios, Diagnostic Tools, Cash burn analysis, Investment and Debt service coverage ratio, etc. The finance options for the business include a business bank loan and also equity funding from investors.

Key Inputs

- Advertising Budget – Input is linked to Sales. The more you spend on the advertisement, the more sales
you generate.
- Total Organic Customer Rate – How much Customers comes to your Salon without using paid
advertisement
- Percentage of Converted Repeat Customers – At what percentage of new total customers come to
your Salon repeatedly.
- Churn Rate – what percentage of your old customer decline
- No of Visits per customer monthly
- Estimate Services
- Average Price of your Services
- No of the booths available for rent
- Average Price of each booth category

Key Features of Salon (Booth rental) Financial Model

This Model contains several sheets, which are as follow:

Input Sheet

The model contains inputs that, when changed, impact the calculations and, therefore, the changes are applied to all relevant sheets. A financial model always has built-in flexibility to display different outcomes or final calculations based on changing a few key inputs.

Startup Summary

This sheet provides an analysis of all the investment requirements of a new start-up and helps the business present a snapshot of the company to prospective investors and raise capital.

Income Statement

The Statement sheet of the Salon booth Rental Excel Financial Model is perfect for those who require regular reporting and details. Additionally, Income Statement contains all revenue streamlines with gross earnings, net earnings linked with revenue analysis to ensure accurate reporting. We understand every business's goal is to profit for that; there must be a mechanism that helps the business owners determine whether they are making profits or otherwise.

Balance Sheet

The statement provides the user with a complete overview of the 5- years projection of your Assets, Liabilities, and Equity Accounts.

Cash Flow

The Cash Flow statement is one of the most important financial statement because each business's main goal is to generate cash flow. This shows how much business has consolidated money and how much is not enough to attract additional financing. This sheet also contains a dedicated sheet to monitor and analyze your company cash-ins and out. This cash flow statement is based on several key inputs, such as Payable and Receivable Days, yearly income, working capital, long-term debt, net cash, etc. This calculation is then used to compute your net cash flow, beginning and end cash balances. This model is a perfect template for modeling your cash flow analysis.

Break-Even Analysis

The break-even analysis will help you know at a glance the profits generated at the various sales levels. The safety margin refers to how the business can afford a decline before it starts incurring losses. The Break-Even Analysis refers to the point where your total sales contribution refers to fixed cost at zero profit and loss. This Technique is primarily based on marginal costing, which behaves differently at different levels of output activity.

Project Evaluation

The table calculates Return on Investment, Investor's Future Equity Share, and Cash Burn Rate Analysis, analyzing the company's performances easily.

Diagnostic Sheet

Since we added a unique table that automatically calculates the data such as the Profitability ratio, Net operating expense ratio to expense, etc., that will provide financial commentary about the company's financials.

DashBoard

Users and readers respond and process visual graphs better than data. Furthermore, charts visually track profitability, revenue, cash flow, and several other financial metrics.

Why You Need This Model For Your Salon Booth Rental Business

- Easy To Update- All sheet are interlinked with each other so it's quite simple to make updations in the
model.

- Well-Formatted & Presented: All core 3-financial statements (income statement, cash flow, and
Balance Sheet) are accurately presented and connected with the input and formatted in a well-
structured way. Also, it follows a particular color theme, which is consistent in all sheets.

- Investor's Friendly: All related investor metrics are included; therefore, investors will appreciate the full
transparency on an Event Management financial model while considering to invest in your business.

- Clear Integration: Integrated and connected everything from assumptions to all financial statements
and Performance KPIs in a well-structured and deal-proven way.

- Data Visualization Tool: Provides data visualization graphs that clearly depict your company's f
financial health, so then you can track your company's performance easily.

- Tested — The Event Management Agency Financial Model is custom made and has been used by
various companies with positive feedback. Hence, it's a proven solution for your event management a
agency's business financial and operating reporting needs.

This Best Practice includes
1 Excel File
Acquire business license for $350.00
Add to cart
Add to bookmarks