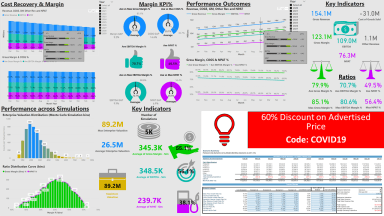 Powerful Dynamic Arrays Model with Monte Carlo Simulation
Newly released Dynamic Arrays functionality by Microsoft means models are now more powerful than ever!
Acquire business license for $299.00
Add to cart
Add to bookmarks
Further information
To enable recipients to see the Power of Dynamic Arrays coupled with a PowerBI integration with info graphics and tooltips. This is the future of financial modelling and is likely to change the way financial models are going to be built in the future.
Learning new skills and ways of building and visualising models.
This is a forecast only model and is not a full 3-way rolling model with actuals. We are currently developing one.

PLEASE MAKE SURE YOU HAVE THE LATEST VERSION OF EXCEL BEFORE DOWNLOADING AS THE MODEL WILL NOT WORK OTHERWISE!