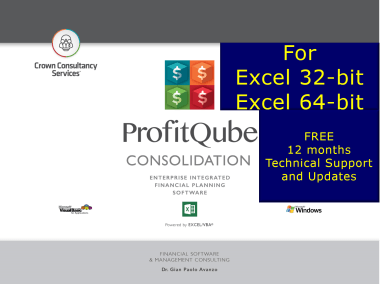 ProfitQube™ Consolidation for Production, Trade and Services (Excel/VBA, release 1.0.3)
ProfitQube™ Consolidation is the ProfitQube™ add-on that facilitates Corporate Planning Consolidation exercise
Dr. Gian Paolo Avanzo offers you this Best Practice for free!
download for free
Add to bookmarks
Further information
Objectives
ProfitQube Consolidation for Multi-Industry Organizations provides an all-in-one professional application enabling the consolidation of the most important Financial Statements (Income Statement, Balance Sheet and Cash Flows).

The Parent Company will consolidate in one single entity the financial statements of all subsidiaries applying adjustments to display the Group financial position.

Here below steps:

Step 1 - Export Financial Statement files
Parent Company and Subsidiaries export financial statements to a common location (e.g. OneDrive, Intranet share drive etc.) from any of the ProfitQube Versions (Services, Trade, Production or Production Pro).

Step 2 - Consolidate Financial Statements
Upload files in ProfitQube Consolidation and merge into a single entity.

Step 3 – Export Consolidated Financial Statements
Export file with consolidated figures from ProfitQube Consolidation into a new file.

Step 4 – Adjust Financial Statements
Adjust Consolidated Financial Statement in the new file created per Step 3 and get the Group financial position.
This file is unprotected thus free for any further modification.

Function buttons, Export functionality with formats, User Friendly interface and colors and User Manual (Consolidation chapter included in ProfitQube User Manual) facilitate the use of this cutting-edge ProfitQube add-on which exceeds both SMEs and Corporations expectation for the management of Group consolidation.

____________________________________________________________________________________________
ProfitQube™ Consolidation 1.0.3 - Update - August 31, 2021

BUG FIXING

Version: All
- Licensing system detecting a different computer due to Windows 10 update.
- Tiny "EULA" window display.

THE PROFITQUBE DEVELOPMENT TEAM

____________________________________________________________________________________________
Produce accurate and complete financial consolidation forecasts on the fly.

Enable what-if analysis to support top management strategic decisions at Group level.

Evaluate customers business plan to support loan review process for multi-company and multi-industry organizations.

Prepare credible projections to win investors for Corporate.

Standardize budget and planning exercise across subsidiaries and aggregate for Corporate Strategic Decisions.