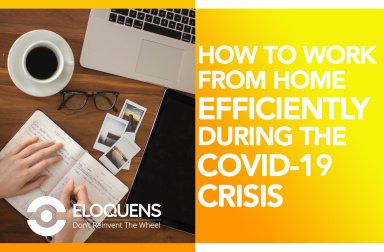 How to Work from Home efficiently during the COVID-19 Crisis
Discover the tips and tricks of maintaining productivity when working from home during COVID-19 📝
Introduction
Working from home doesn't have to impact your productivity. At the office, your employees are likely to be the root cause of your procrastination, dropping by your desk for a chat or inviting you to lunch. At home, you are your own worst enemy. During these uncertain times, where social distancing and self-isolation are advised in order to combat the spread of COVID-19, many people will be required to work from home. There is a common misconception that working away from the office will negatively impact your productivity and the quality of your work – after all, how can you get work done if your kids are making a racket or the dog wants to go outside again?  


Fear not, we have defined 10 key steps to ensure that you can continue to work efficiently and effectively from your home. 
Step n°1 |

Get started early

Think of it this way, without your morning commute you now have more time in the morning to get yourself into the right headspace to work. In a study performed by CBS News, 55% of people work more efficiently in the morning. ⏰ Make sure to plan your most important tasks when you are at the peak of your performance, whether this is in the morning or in the afternoon. If you have a spare couple of minutes before getting down to work, think about doing a 10-minute mindfulness meditation. 🧘‍♂️Taking the time to clear your head will certainly positively impact your productivity and get your head in the game. 

Step n°2 |

Pretend that you are going into the office

Try to maintain normality by following a routine. It's natural to start feeling unmotivated if you've been following the same morning routine for months, if not years, and this is suddenly disrupted. Devise yourself a new routine, resembling your previous routine and stick to this in the mornings. For example, prepare a balanced breakfast and wear clothes that are smart enough to be seen in a video conference. 🍎Don't underestimate the importance of 'dressing for success', looking smart will make you feel psychologically ready for the day. 👨‍💼You wouldn't turn up to your office dressed in a tracksuit, so try to avoid this at home.

Step n°3 |

Structure your day

Add structure to your day by planning in phone meetings with co-workers and setting goals to complete your tasks. Working from home may get very repetitive but having small milestones will help you maintain motivation and make you feel accomplished when you reach them. 🏆Try to adhere to the working hours you set yourself. When your office is also your home, it is very easy to get carried away and work at all hours of the day. This will likely lead to burnout in the long run and impact your work further down the road. Try to be strict with yourself and keep an overview of the bigger picture.
add_shopping_cartContinue reading for free (70% left)