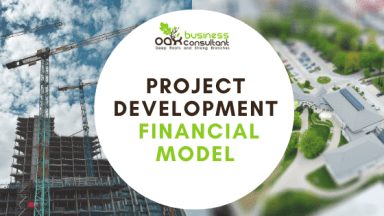 Project Development Financial Model
This Financial Model is a specially designed financial model due to the fact that the construction of a building require

by Oak Business Consultant
Our mission is to be the industrial leader and pioneer in our business domain
Follow
Description
This Real Estate Project Development Financial Model is a specially designed financial model that is fundamentally different from all our other models due to the fact that the construction of a building requires enormous investment. Yet, the returns would come from holding the property and selling at a later stage or receiving minimal but continuous rental income for the next twenty to thirty years.

Some questions that arise from the investors' point of view are the payback period and what would be their annualized return on investment. To answer these questions, you need a carefully designed financial plan that considers several assumptions as inputs. The input assumptions would allow you to change the input numbers. The model would recalculate each linked cell automatically for you, and even the charts would update to show you your new analysis without having to consult anyone again.

This tool, this Real Estate Project Development Financial model, takes into account over 12 years of our experience building financial models as a Head of Finance.

The Key Features of Rental Property Business Excel Financial Model are stated below.

1: Protection of Sheets

It is usually a neglected but highly useful feature. Many financial modeling experts fail to realize this; We made sure to protect the basic structure of all the sheets included in the model and allow the USER to make changes in the cells only that they are required to use.

It will give the User a heightened level of ease and satisfaction as they would know exactly where they need to change and that they would not be making any accidental changes.

2: Development Cost and Pricing

We made this specifically designed separate input sheet for the Pricing metrics. Since you would like to know instantly the price of a UNIT or building that you need to set to earn a certain amount of return, this would also show you your cost for the same unit or building, giving you a precise estimation of your total costs and total return when the construction would be complete.

3: Input sheet

The Input sheet for this model is newly designed to give you control over the classification of development cost compared to your other operational expenses. It allows you also to divide your construction costs into stages and then spread these costs over a defined period.

You will have full control over what goes where! And we made it so easy to follow that you would not need anyone's help to fill in the required information. We also made sure that the taxes are calculated correctly on the received amounts rather than accounting profits.

4: Startup Funds

As clear from the name, this sheet is only about the money required to complete the development and make all related arrangements. In addition, this sheet is also designed for you as a clear indication of how much commercial loan or mortgage loan you would need to cover your expenses after deducting your own and potential investor's capital.

5: Salaries and Wages

This is a separate sheet for you to incorporate any other salaries and wages costs that do not relate to your development project but pertaining to your company. It is a simple-to-follow sheet that gives you control over headcount, the month of hiring, and the salary amount. You can also input the annual growth rate for salary.

This sheet is linked to the income statement, and therefore you do not have to worry about making changes anywhere else.

6: Monthly Profit and Loss Statement (P&L)

This statement is your month-by-month and year-by-year complete picture of all the expenses and income in each month. So, when the revenues start coming in after you have completed the development of at least one stage and started selling the units. In this Real Estate Project Development Financial Model, you will see precisely how much you are spending on your non-construction-related expenses. The costs of construction are not a part of the monthly expenses.

The Yearly P&L Statement is a summary of the monthly income statement. Looking at individual months can be tiring. Furthermore, looking at a full year's performance gives some users a better idea of their yearly returns and profits.

7: Cash Flow Statement: Real Estate Project Development Financial Model

The Cashflow Statement is another handy report. It shows the actual timing of all cash inflows and outflows. It disregards whether the cash flow belongs to the construction of an asset or the company's operational expenses. For this specific reason, it is a useful tool to find out the amount of cash required by the company to fund all its expenditures completely.

We are also providing you an extended version of Financial Cashflows over 10 years period. This extended period would allow you to see profitability in those years to make better decisions about the future.

8: Balance Sheet

The Balance sheet sums up your company's position at a specific time, usually the year-end. It is useful to note the account balances of each particular line item on that specific date. The most straightforward way of determining the value of a company's total assets and liabilities is through the balance sheet. The total value of equity is easily measurable using this report.

9: Project Evaluation Sheet

The project evaluation sheet is the most in-demand real estate investment calculator excel that we provide to you in this Real Estate Financial Model as a freebie.

Separately only this Discounted Cash Flow and Equity Multiple Valuation service used in real estate financial modeling sell for above two hundred dollars, and the price keeps climbing depending on the size of the organization.

But in our financial models, we provide this project valuation real estate modeling along with other useful financial tools to make sure that your investment decisions are well informed.

It gives you several useful valuation methods packed in one sheet, like:

# Net Present Value analysis

The net present value, also known as NPV Analysis that is included in this financial model, provides you the total net worth of a project by assessing the initial investment against the present value of future net cash inflows. So you can decide whether you may wish to invest in this project or not.

# Equity-multiple method for project's total value

This is also commonly known as EBITDA Multiple methods. It uses the projected financial statement of a company and multiplies the furthest expected income of a company with a number. This number is the EBITDA Multiple.

It is, therefore, the most simple method if you know the EBITDA Multiple for your organization. Oak Business Consultants are experts in conducting this research and finding the most appropriate EBIDTA Multiple for your company.

# Discounted cash flows valuation technique

This advanced approach to calculating the future value of a project or a company is very popular in real estate financial modeling. This DCF method first forecasts the net operating income of the company. It takes into account all the individual cash inflows and outflows. And then, it converts the cashflows of the future to their present values using the hurdle rate or required rate of return.

# Return-on-Investment ratio to show you profitability

ROI helps you to know exactly how much you can earn as a percentage from an investment. And then, if you fund this investment using equity, this whole gain would be yours, but if you don't have that amount of money, then you must make sure that the interest rate on that loan is lower than the ROI. If your ROI is less than the required rate of return, then the project is not feasible.

# Equity percentage offered to investors

Our Financial model for real estate investment analysis excel spreadsheet answers the most important question your investors would ask before investing in your company. That is how many portions of the equity you would offer them against their huge investment.

By nature, a startup and the owner of a startup start small and put in a lot of effort to make an idea successful. Their investment of money may not be huge, but their effort and unique idea are of great value that will earn money in the future. So when investors come with huge investments against small monetary contributions from the owner, they may also expect a greater share. But our model shows them how great the actual value of the company would be in the future, and therefore they would only get a fair share instead of the lion's share.

# Cash Burn and its implication.

Cash burn is the sum of all expenses for the first one or two years. For a startup, this is crucial because the income is not certain, and if the company fails to maintain a healthy cash flow, then the companies have to go into forced liquidation or takeover. So to prevent this from happening, the startup needs to make sure that they have at least this much cash in the company at all times.

10: Dashboard

The dashboard is another beneficial aspect of this Real Estate Financial Model. It gives you a glance at all the business activities within seconds. In our model, every sheet and every chart is in sync with the data. So when you make changes to the inputs, the model automatically calculates all the results and also fixes the charts.

The benefits of the Rental Property Business Excel Financial Model

1: Save Money & Time
2: Easy To Use
3: Understand the Viability of Each Single Item
4: Graphical Visualization

How to use Rental Property Business Excel Financial Model

For the purpose of making this model easy to use, Oak Business Consultant has designed this Real Estate Project Development Financial Model with maximum care. Each cell has a color code, and the input areas are all highlighted in peach color.

The User is only required to input data in peach color cells. All other cells are either helping calculations or results of the model. Therefore there is no need to change any other cell except peach-colored cells.
This Best Practice includes
Excel File
Acquire business license for $250.00
Add to cart
Add to bookmarks