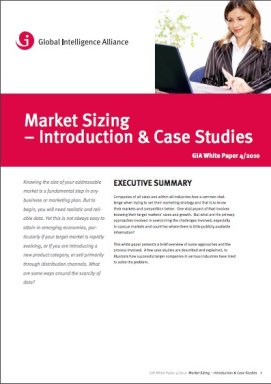 Market Sizing - Introduction & Case Studies
This tool offers a detailed overview of the process of market sizing and helpful case study examples.

by M-Brain
Global Information, Technology and Consulting Services Company
Follow
Description
This tool aims to help businesses of all shapes and sizes to know their markets and market competition better. The way of doing this is to get to know the size of your market and its growth potential, and this 9-page PDF will show you how!

The document is broken down into 4 sub-sections, a step-by-step approach which will ease you into the processes of market sizing. These steps are:

- An Introduction to Market Sizing and Forecasting
- Case Example: Speciality Chemicals (Raw Materials)
- Case Example: Telecom Equipment (Component)
- Case Example: Industrial Machinery (Business
End-Product)

The introduction to market sizing will give you an overview of the challenges that you may face when attempting to size your market. This will allow you to prepare for any of the potential problems you may face when completing the processes behind market sizing. Furthermore, it will help to establish why exactly you need market sizing and how it can be extremely helpful to your business. The second part of the introduction to market sizing will show the different approaches that you can take to it. This will evaluate the pros and cons of the bottom-up model and top-down model for market sizing. The information given about these different approaches will enable you to make an informed decision about which method would fit your business context better.

The second half of this document will focus on different case studies of market sizing. Three different case studies, based on three different types of business are analysed in terms of their background, challenges and solution approaches when it comes to market sizing. As such, the processes of market sizing are put into real-world business contexts, making them more relatable and easier to understand. This will help you relate your own business to one of these case studies, and ultimately, decide your own best approach to market sizing.
This Best Practice includes
1 PDF Document
M-Brain offers you this Best Practice for free!
read for free
Add to bookmarks