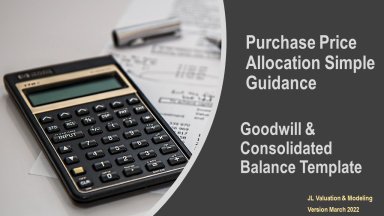 Purchase Prise Allocation Explaination Model-Simple Guidance- Goodwill & Consolidated Balance template
This is simple excel explanation model of Purchase Price Allocation with dynamic and ready to use goodwill & consolidated balance template for M&A PPA process.
Acquire business license for $10.00
Add to cart
Add to bookmarks
Further information
Allow users to learn about the Purchase Price Allocation process, Goodwill calculation and post closed transaction consolidated balance sheet.
Suitable both for educational and business purpose.