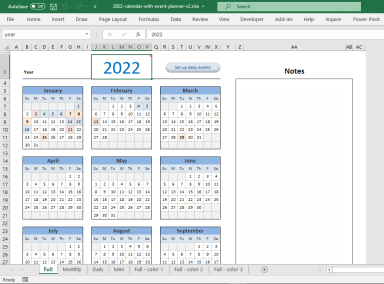 Calendar Template & Daily Planner
Calendar Template & Daily Planner in Microsoft Excel

by Rahim Zulfiqar Ali
Founder & CTO - XLR8 Tech Solutions, CEO - Excel Basement, Excel & POWER BI Trainer & Consultant, MBA (MIS), MCT, MSOM, Data Analyst, Power Platform
Follow 140
Description
Calendar Template & Daily Planner in Microsoft Excel

Calendar template – features:
- One page, 12 month calendar view
- Daily calendar with ability to add events
- Any events you add will be highlighted on the main calendar
- Mini calendar view with – 1 row per month
- Large monthly calendar view, one page per month
- 4 different color versions of the calendar
- All formatted and optimized for desktop viewing + print
- PLUS, the calendar is perpetual. Change year in the first worksheet to see calendar for different years

How to use calendar?
It is very simple. Just download the file and follow below instructions.

Go to "Daily" tab and clear all the events
List your own events and agenda.
Go to "Full" tab to review the calendar
Print the view that you want

Uses for calendar templates.
Daily, weekly or monthly work schedules for you and your employees.
Editorial or content calendar for marketing your business or a new product/service.
Family appointments, chores, and obligations.
Checklist for daily to-do list items.
Reference for holidays, birthdays, and anniversaries.
Tracking the progress of goals or a project.
Upcoming vacation itinerary.

We all have those busy days, so why not have something that can help you manage them right there on your desk? Like a cute calendar for example? To get your head out of your electronics and look through your plans on the calendar will make you feel more motivated and give a break for your eyes to relax.
This Best Practice includes
1 Excel File
Acquire business license for $10.00
Add to cart
Add to bookmarks