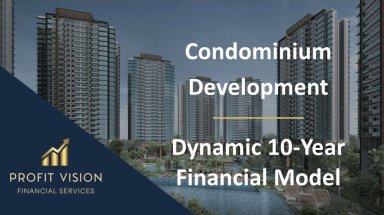 Condominium Development - Dynamic 10 Year Financial Model
Financial model presenting a development scenario for a Condominium Units Building.

by Profit Vision
Financial & Consulting Services
Follow 21
Description
A condominium (or condo for short) is a building structure divided into several units that are each separately owned, surrounded by common areas that are jointly owned.
Unlike apartments which are leased by their tenants, condominium units are owned outright. Additionally, the owners of the individual units also collectively own the common areas of the property, such as corridors/hallways, walkways, laundry rooms, etc., as well as common utilities and amenities.
This Financial Model presents a development scenario of a Condominium Building with units available for Sale and enable users to get into details of every step of an Condominium building project from the construction stage, to sales of Units, projection of cash flows and returns to investors.
The model is dynamic and allows users to select the desired forecasted Years (1 to 10). Output Reports & Charts are dynamically updated based on the selected forecast period
The structure of the template follows Financial Modeling Best Practices principles and is fully customizable.


Model Structure
Set-up Inputs:
• General Business Info & Reporting Metrics
• Project Timing (Construction Time Frame, Units Pre-Sales and Sales timing assumptions)
• Property Metrics (Total Floors, Gross & Revenue Generating Square Feet, 4 different types of Units, Avg. Unit Size, Parking Spaces)
• Revenue Assumptions (Avg. Units Sale price, Pre-sales and Sales Metrics per Unit Type)
• Operating Expenses (HOA, Real Estate Taxes, Sale Expenses)
• Financing & Capital Structure – Uses & Sources of Cash analysis (Financing through Equity & Debt)


Construction Budget:
• Timing and Cost Assumptions for the construction period (Land Purchase, Hard & Soft costs, G&A, etc)


Monthly Cash Flow
• Detailed calculation of cash flows over monthly periods from construction to sale of Units.
• It allows users to control the timing and how the cash flows over that time.


Annual Cash Flow
• A roll-up of the monthly cash flows into annual periods including Equity & Debt Schedules, Unlevered and Levered net cash flow.


Partnership Returns (Waterfall)
• A 4-tier IRR hurdle waterfall model to distribute proceeds between the general partner and limited partner.


Project Summary
• The summary tab contains all high-level project information for review and is designed to be easy to read, print, and save to pdf.
It includes general info, timing, square footage and unit info, sources and uses of cash summary, Key Financial Metrics, Property and Partnership Level Returns.


Instructions on the use of the model are included in the Excel file.


Help & Support
Committed to high quality and customer satisfaction, all our templates follow best practice financial modeling principles and are thoughtfully and carefully designed, keeping the user's needs and comfort in mind.
No matter if you have no experience or you are well versed in finance, accounting, and the use of Microsoft Excel, our professional financial models are the right tools to boost your business operations!
If you however experience any difficulty while using this template and you are not able to find the appropriate guidance in the provided instructions, please feel free to contact us for assistance.
If you need a template customized for your business requirements, please e-mail us and provide a brief explanation of your specific needs.
This Best Practice includes
Excel Financial Model
Acquire business license for $139.00
Add to cart
Add to bookmarks
Further information
Presents a development scenario of a Condominium Building with units available for Sale