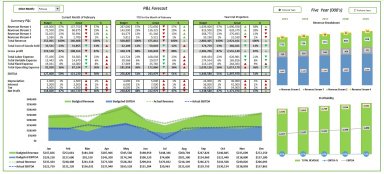 Budget and Forecast Excel Template
Budget and Forecast Model Interactive Template

by Steve Lindsey
Key Information at a Glance
Follow 22
Description
This ready to use template makes it easy to set up a budget, and then analyze actual results to the budget - to actual financial results, and then forecast future expectations.

The dashboard is interactive with drop down selectors for ease of comparison analysis. They instantly calculate results by month as well as for year to date performance.

Set Up:
In the Set Up tab, the current year is input , as well as the starting month of fiscal year.

Budget Input:
The Budget is created on the Input Tab. There are sections for Revenue, Cost of Sales, Labor, Variable Expenses, Fixed or Overhead Expenses, Depreciation, Interest and Taxes. These sections are built within tables, so line items can be inserted within each section. This allows for the expansion to as many P&L lines you need with in each category. The total of each section link to the Summary Dashboard.

Actual financial results, as they are finalized by month, are also entered on the input tab. The remaining months in the year can be forecasted through the year end. This is critical as you discover the need to adjust budgeted amount assumptions, as revenues and expenses actualize through the year.

If you have four years of summary historical data or would like to project financial data four years past the current budgeted year, you can add that data to the 5 Year Chart data tab. This information can then be displayed on the dashboard. A button on the dashboard enables a selection of displaying either five years of historical data or five years of projected data. If you do not have historical information or do not want to project future years, there is an alternate tab of the Dashboard without the 5 Year Graph.

This Excel Dashboard Budget and Forecast Template will let you quickly see the road ahead and well as continually checking the rear view mirror. This provides the best practice of providing the opportunity to be proactive to changing financial conditions rather, than being put in a reactive situations.
This Best Practice includes
Excel Template
Acquire business license for $99.00
Add to cart
Add to bookmarks