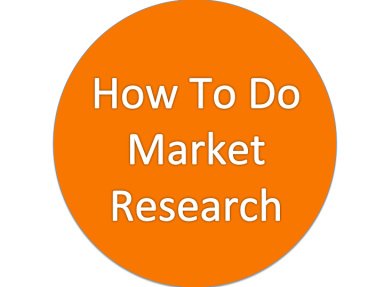 How to Do Market Research: A Step-by-Step Guide to Understanding Your Buyer's Journey
Learn all you need to know about market research with this comprehensive step-by-step guide.
Introduction
By now, you probably know that today's buyers hold all of the power when making a purchasing decision. You're also probably aware that they're doing some of their research online. But have you really adapted your marketing plan to match the way today's customers shop and buy?


Consider these recent statistics about B2B buyers from a 2015 study by Think With Google:
> 89% of buyers use the internet during the B2B research process.
> 71% start with a generic search query (they're looking for a topic, not your brand).
> 57% of their evaluation is done before they'll perform an action on your site.


What's a marketer to do to make sure your buyers find you early and often? Go where they're going, of course.


That might sound obvious, but how deeply do you understand exactly where your buyers are doing their research and what is influencing their decisions? That is where research comes into play.


Whether you're a newbie or experienced with market research, this guide will give you a blueprint for conducting a thorough buyer's journey study.
Step n°1 |

Define Your Personas

Before you dive into how your personas make buying decisions, you must first understand who they are. This is where buyer personas come in handy.
Buyer personas -- sometimes referred to as marketing personas -- are fictional, generalized representations of your ideal customers. They help you visualize your audience, streamline your communications, and inform your strategy.


You may find that your business lends itself to more than one persona -- that's fine! You just need to be sure that you're being thoughtful about the specific persona you are optimizing for when planning content and campaigns. 

Step n°2 |

Recruit Buyers

Now that you know who your personas are, you'll need to find a representative sample of your target customers to understand their buyer's journey. These should be folks who recently made a purchase (or purposefully decided not to make one).


We've developed a few guidelines and tips that'll help you get the right participants for your research. Let's walk through them ...


How to Determine Who to Recruit


Start with the characteristics that apply to your buyer persona. This will vary for every organization, but here are some additional guidelines that will apply to just about any scenario:


> Shoot for 10 participants per persona. We recommend focusing on one persona, but if you feel it's necessary to research multiple personas, be sure to recruit a separate sample group for each one.
> Select people that have recently interacted with you. You may want to focus on folks that have completed an evaluation within the past six months -- or up to a year if you have a longer sales cycle or niche market. You'll be asking very detailed questions, so it's important that their experience is fresh.
> Aim for a mix of participants. You want to recruit people that have purchased your product, folks that purchased a competitor's product, and a few that decided not to purchase anything at all. While your own customers will be the easiest to find and recruit, sourcing information from others will help you develop a balanced view.


How to Recruit the Best Participants


Market research firms have panels of people they can pull from when they want to conduct a study. Trouble is, most individual marketers don't have that luxury -- and that's not necessarily a bad thing. In fact, the time you'll spend recruiting exclusively for your study will often lead to better participants.


Here's a simple recruiting process to guide your efforts:


> Pull a list of customers who made a recent purchase. As we mentioned before, this is usually the easiest set of buyers to recruit. If you're using a CRM system, you can run a report of deals that closed within the past six months and filter it for the characteristics you're looking for. Otherwise, you can work with your sales team to get a list of appropriate accounts from them.


> Pull a list of customers who were in an active evaluation, but didn't make a purchase. You should get a mix of buyers who either purchased from a competitor or decided not to make a purchase. Again, you can get this list from your CRM or from whatever system your Sales team uses to track deals.


> Call for participants on social media. Try reaching out to the folks that follow you on social media, but decided not to buy from you. There's a chance that some of them would be willing to talk to you and tell you why they ultimately decided not to buy your product.


> Leverage your own network. Get the word out to your coworkers, former colleagues, and LinkedIn connections that you're conducting a study. Even if your direct connections don't qualify, some of them will likely have a coworker, friend, or family member who does.


> Choose an incentive. Time is precious, so you'll need to think about how you will motivate someone to spend 30-45 minutes on you and your study. On a tight budget? You can reward participants for free by giving them exclusive access to content. Another option? Send a simple handwritten 'thank you' note once the study is complete. 
add_shopping_cartContinue reading for free (70% left)