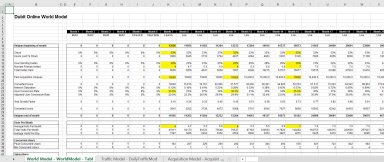 Virtual World Freemium Business Model Template
A business model excel spreadsheet to help companies make business decisions and understand how variables interact.
Matthew Warneford offers you this Best Practice for free!
download for free
Add to bookmarks
Further information
The ARPU is driven by a great variety of variables. For example market size, growth rate, funnel conversion, subscription price, micropayment conversion, and more. Almost all metrics in the model have some relevance on the ARPU; it is a very good indicator of the health of a world.

A very helpful attribute of the ARPU is that we can have a look at other worlds and easily estimate their ARPU's. What we would find is that a successful casual world can generate a revenue per user and per month, of 1$ to 2$. However, we can't expect to excel on a $2 ARPU right after the launch. You need a period of time to determine what types of products your users want to purchase and how you want to increase conversion rates of players to get them to subscribe and increase their micropayment expenditure.

In the template, the ARPU starts around the $0.30 mark, and increases up to $1-$2 region over a period of 20 months. The improvements come about from the AB testing on items below:
• Funnel conversion
• Subscription and micropayment conversion
• Increasing micropayment spend
• Reducing churn
• Increasing repeat visits

The manual inputs that give us our own ARPU increase over time (which you may also change to see how your model reacts to it) are those in the yellow cells on the World model tab.
The model isn't perfect, but I hope that it serves as a helpful starting point for founders of virtual worlds or freemium startups. Below are three improvements I'd like to implement:

- The traffic: the model should be able to model entering new areas, changes to the daily traffic flow and synced to marketing spend

- Funnel: I'd like a more purified modelling of the steps, from the moment invites are sent to the sign up stage. I'd like to see how guests convert to players, how homepage visitors becomes guests, and so on. These measurements are critical to running and improving your world, because if they are not tracked you wont be able to know if your conversion rates are improving.

- Paid acquisition: The model could be smarter about when and how the paid acquisition is increased. For example, paid acquisition should be kept low until the LTV becomes larger than the cost to acquire. Having this to be automatic would be greatly helpful.