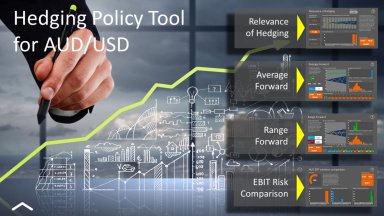 Hedging Policy Tool & Simulation
Foreign Exchange Hedging Policy Tool to enable simulation of hedged and unhedged exposures using derivatives.
Acquire business license for $25.00
Add to cart
Add to bookmarks
Further information
To demonstrate how one could create a hedging poicy tool and assess effectiveness of different derivative instruments linked to the specific hedging policy and exposure risk apetite. The purpose is to assess the effectiveness of various instruments given a particular range and volatility of foreign exchange rate movements.
For communicating and visualising complex derivative financial instruments and how effective they might be depending on the nature of the foreign exchange rate movements.
Hedge accounting or specific derivative trading activities. Pricing these instruments specifically or the valuation of the instruments.