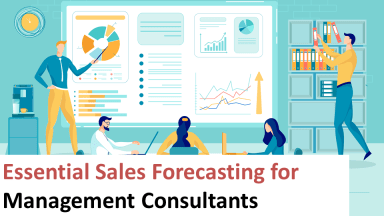 Sales Forecasting for Management Consultants & Business Analysts
A 122 page PDF guide to understand Sales Forecasting for Management Consultants.

by Asen Gyczew
Expert in performance improvement and restructuring with significant experience
Follow 419
Description
During many consulting projects, you may be asked to forecast the sales of the firm or check sales forecast models done by the customer. Sales forecasting requires a specific approach to data and also a lot of creative, out-of-box thinking, to address the issue of insufficient data and changing environment. In this presentation, I will teach you how to do fast and efficiently basic sales forecast models in Excel. We will create a relatively simple sales forecast. Nevertheless, they will significantly help your customer define strategy and decide whether he should open a new factory, enter a new field, buy a business. We will NOT get into complicated models, forecasts as in most cases you will have neither time nor data to do them. It would also require a wider knowledge of mathematics, statistics, econometrics, and usage of more advanced tools than Excel. The things you will learn in this presentation will be sufficient in 70% of the cases and can be done with the knowledge of basic Math. Such basic sales forecasts are especially important during Strategy projects, M&A projects, and business development projects. In such projects, you want to get fast rough sales forecasts using simple methods. A similar approach as we will show in this presentation can be used as the starting point for budgeting models.
In the presentation you will learn the following things:
1. The essential concepts in sales forecasting and the main tools that you may need.
2. How to forecast sales in Excel using simple methods fast and efficiently
3. What drivers of sales you should take into account for selected industries. We will look at different cases studies to see how you can move from drivers to a working model in Excel

This Best Practice includes
1 presentation
Asen Gyczew offers you this Best Practice for free!
download for free
Add to bookmarks