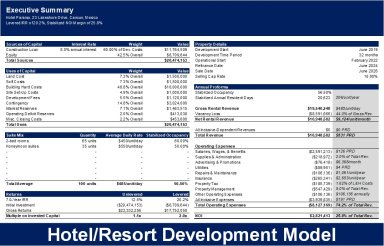 Real Estate - Hotel/Resort Development Excel Model Template
Complete financial model for financing, building, operating, refinancing, and selling hotel/resort property types.
Acquire business license for $40.00
Add to cart
Add to bookmarks
Further information
To help investors make quality investment decisions.
Works best for various types of real estate development opportunities such as hotels and resorts.
Does not work well for non-real estate businesses.