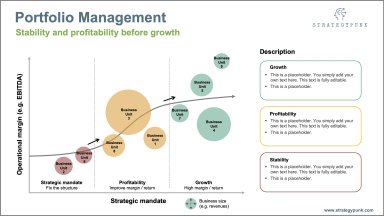 Portfolio Management Powerpoint Template
Portfolio Management Powerpoint template to ensure a long-term profitable growth and market leadership position of all business units or product groups.

by StrategyPunk.com
Strategy templates and content.
Follow 99
Description
This powerpoint template is based on the active portfolio management approach by the leading global technology company ABB. The slides and approach has been presented by the ABB management in their investor presentations in 2019/20.

Active portfolio management is an important strategic tool to evaluate and develop a profitable and sustainable portfolio of business units or division at all levels of an organization. ABB for example continuously questions itself whether they are the best owner of a division or business unit. The portfolio management tool also supports the management to steer the different divisions and business units in line with their strategic mandates.

This tool can be applied to systematically evaluate the performance of our portfolio mix of product groups, business units, divisions or shareholdings.

Categories are:

Strategic mandate - fix the structure
• Needs management attention
• Disciplined cost management
• Complexity reduction and efficiency improvments

Profitability - improve margin / return
• Focus on growth to improve scale
• Strategic measures

Growth - high margin / return
• Actively pursue M&A opportunities to fill white-spots and steer our overall portfolio mix towards high-growth sectors.
• Look for regional growth opportunities

This tool or framework gives you guidance and a systematic approach to
• Optimize your portfolio (product, business unit, division, etc)
• Facilitate capacity and resource management
• Ensure continuous monitoring and visibility of the status of your businesses
• Integrate top-down planning and bottom-up execution

This template is a first showcase with sample data. Please adjust the content to your business and needs. All of the powerpoint slides are fully editable without any restrictions.

If you find this tool useful, I kindly ask you to leave a positive review and rating. Leaving a review adds enthusiasm and motivation for me to create new tools.

Please feel free to drop me a message, if you have any questions regarding the tool. For more tools and automatic updates on new releases please follow by channel here on eloquens or LinkedIn.
This Best Practice includes
2 PowerPoint Slides, 16x9 powerpoint format, 100% editable, powerpoint format .pptx
StrategyPunk.com offers you this Best Practice for free!
download for free
Add to bookmarks