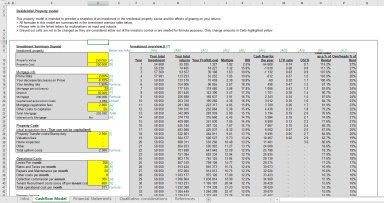 Residential Property Investment Excel Model
User friendly generic professional residential property model. Includes cash flow and financial statements.
Acquire consulting license for $20.00
Add to cart
Add to bookmarks
Further information
To give investors a better idea of the returns for their residential property investments.
It is a generic model designed to cover most residential properties, so it should cover most scenarios you may realistically have.
Best used for single residential properties.
Any tax system where there is not one flat tax rate (eg Progressive/Regressive, rebates etc).
Where you will want to pay your property off earlier or refinance.

Any situation where there would be once off cash flows occurring during the life of the investment