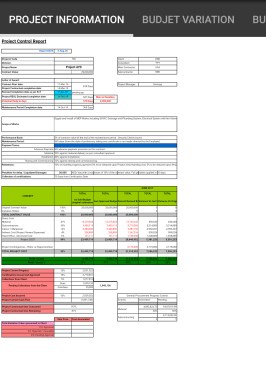 Cost Control in Projects Management Excel Model
Project control management Microsoft Excel Model Template.

by Rami Abbas
Financial Analyst with 13 years experience. Specialized in feasibility studies and financial plans.
Follow
Description
Project cost management is the process required to ensure that the project is completed within an approved budget in timely manner without penalizing safety requirements or quality standards.

Each project manager should prepare and maintain a project control report updated on a monthly basis, addressing the changes, variations and deviations of cost that affect the foretasted profits.

Project cost managements is about 3 main activities.
- Estimating costs of resources: developing an approximation or estimate of costs of the resources needed to complete a project.
- Preparing the budget: allocating the cost estimated into each work items(material/labor/subs) to establish a baseline for measuring performance.
- Controlling costs: monthly monitoring and control changes to the project budget.

Key terms Project control management:
1- Project Control Report
2- Contract value
3- Direct cost
4- Indirect cost
5- Structure cost

Project control management implementation:
1- Project managers should carefully code all material request in the correct previously budgeted item.incorrect coding at the material request initial step would generate problems for issuing the corresponding LPO as well as mismatching at the time of controlling the cost.

2- other items included in the project control report are:

- Sales register: to control the billings issued and collections.
- summary of project contingencies
- Variation order log control
- Project histogram
- Billings projection.

3-Project control report will be a vital tool for issuing competitive and accurate future tender estimations.

4-Project control report is driven to save us time and money giving us information to make educated decisions on time.

Contractual Matters:
- Variation orders

Proper and timely notification to the Client when a variation order is identified
. Cost
. Time
. Cost and Time

- Extension of Time
. Proper and timely notification to the client when an event external to our scope of work affects our schedule.
This Best Practice includes
1 Excel Template
Acquire consulting license for $100.00
Add to cart
Add to bookmarks