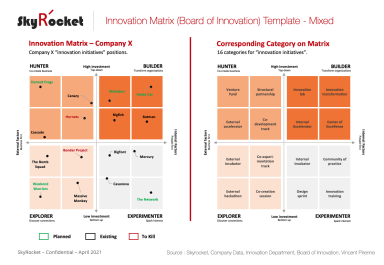 Innovation Matrix (Board of Innovation) Template
A "hands-on" template version of Board of Innovation's "Innovation Matrix, to position innovation initiatives.
Description
The Innovation Matrix is a creation of the "Board of Innovation" (and Vincent Pirenne), a consulting firm who supports many large organizations in designing and executing innovation initiatives (see here: https://www.boardofinnovation.com/tools/innovation-matrix/ )

It enables organizations to compare innovation initiatives and to make investment choices based on their strategy or objectives. Stemming from their cumulated experience, the team at the Board of Innovation have made a great job and methodology around the matrix (ex: how to move from one position to another, etc.).

It broadly categorizes innovative organisations into 4 meta-categories:
1/ 🦌 Hunters: Co creating Business (High/Above Average Investment - External Focus)
2/ 🛠 Builders: Transforming Organisations (High/Above Average Investment - Internal Focus)
3/ 🧭 Explorers: Discovering Connections (Low/Below Average Investment - External Focus)
4/ 🔬 Experimenters: Sparking Interest (Low/Below Average Investment - Internal Focus)

Each Meta-Category has 4 sub-categories, to better position innovation initiatives on the spectrum.
1-4/ Hunters: Venture Fund, Structural Partnerships, External Accelerator, Co-development track
4-8/ Builders: Innovation lab, Internal Accelerator, Innovation Transformation, Center of Excellence
8-12/ Explorers: External Incubator, Co-experimentation track, External Hackathon, Co-creation Session
12-16/ Experimenters: Internal Incubator, Community of Practice, Design Sprint, Innovation Training

Given the success and pertinence of this innovation framework, I could not resist the temptation to see how it could be made applicable for organizations in a slightly more "hands-on / plug&play" approach. Thus, I re-created the matrix on PowerPoint and added the possibility for innovation leaders, consultants and decision makers to position their own innovation initiatives on the Board of Innovation Matrix. 3 possible angles were selected.

1/ A Matrix to position current, planned and "to kill" innovation initiatives
2/ Another to position all current innovation initiatives (big picture)
3/ And a last one focusing on the roll-out of the "planned" innovation initiatives

This slide can be useful to present in board rooms to Innovation VPs, Directors or CEOs, to explain R&D/Innovation budget allocations linked with the organization's global strategy or business objectives (reacting to competition, maximising profitability, growing revenues, entering new markets...)

The Best Practice is composed of:
- 3 editable Microsoft PowerPoint Template Slides
- an attached Excel Model behind each slide to plot the Matrix
- with an online & offline 15 step-by-step methodology, with pedagogical illustrations for each step.

Should you have any questions on using this top tier Innovation Management Template slide and matrix, you're welcome to reach out to me via Private Message.

Good luck!
- Tim
This Best Practice includes
3 PowerPoint Slides Template (with attached models) + 1 Online 15 Step-By-Step Methodology
Tim Demoures offers you this Best Practice for free!
download for free
Add to bookmarks