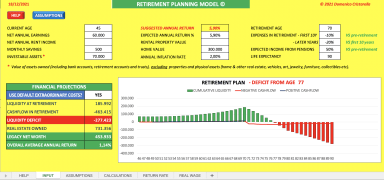 RETIREMENT PLANNING MODEL **INFLATION ADJUSTED**
RETIREMENT PLANNING MODEL **INFLATION ADJUSTED** *More comprehensive, realistic and graphically attractive than most retirement calculators available online*

by Domenico Cristarella
Independent Consultant
Follow 34
Description
ESTIMATES THE EVOLUTION OF YOUR INVESTABLE ASSETS UNTIL RETIREMENT AND THROUGHOUT YOUR LIFESPAN. CALCULATES YOUR LEGACY NET WORTH, INCLUDING FUTURE VALUE OF REAL ESTATE HOLDINGS.
**ADJUSTED FOR INFLATION**

This model helps estimate whether you will dispose of sufficient resources to adequately fund your retirement years. Based on your current age, liquid assets, earnings and saving capacity as well as your goals in terms of return on investment, retirement age and desired lifestyle after retirement. It also calculates and charts the evolution of liquidity and net annual cashflows year-by-year, to determine if you are on track to meet those goals or need to increase your saving ability, adjust your goals or postpone retirement.

This involves, among other things, calculating how your regular income, ordinary expenses and extra-ordinary costs (all inflation-adjusted) might evolve during your lifespan, based on both your inputs and a set of built-in assumptions grounded on broad statistical data, as follows:
• age at which your earnings and expenses are expected to peak;
• average earnings increase, split between promotion (performance related) and basic wage raises;
• average ordinary expenses increase, split between "lifestyle inflation" (with frequency matching that estimated for promotion raises) and basic increase due to inflation;
• estimated future evolution of extra-ordinary costs (calculated by default, if you choose not to provide your own estimate).
Extraordinary costs are typical expenditures in excess of ordinary revenues, occurring during an average person's lifetime. Categorized as: home related (down-payment, restructuring, furnishing), car purchase, kids education, retirement relate, others.

The model has 5 mandatory inputs:
1. current age
2. net annual earnings (disposable income)
3. expected retirement age
4. expected expenses after retirement (desired lifestyle) in the first 10 years of retirement and subsequent years
5. life expectancy

There are 9 optional inputs ("0" value assumed if you leave any of them blank, unless otherwise stated):
1. home value
2. rental property value
3. net annual rent income
4. monthly savings (important)
5. investable assets owned (excluding real estate and other physical assets)
6. expected annual return %
7. annual inflation rate (2% applied by default, if left blank)
8. expected regular retirement income (pension) (% of earnings at retirement)
9. default extraordinary costs (if you select "NO", input will be required in the 'ASSUMPTIONS' sheet - Sect. 1)

The model consists of 6 spreadsheets:
1. 'HELP', with explanation of terms used and methodology
2. 'INPUT', with financial projections and chart
3. 'ASSUMPTIONS', summary of key data used by the model
4. 'CALCULATION' engine
5. 'RETURN RATE', calculator determining suggested annual return rate based on your current age
6. 'REAL WAGE', average real wage raises in 25 selected OECD Countries for 2011-2020

Most built-in settings can be modified to better fit individual situations, using the 'ASSUMPTIONS' sheet.
For more detailed explanations and technical information please refer to the 'HELP' sheet.

This Best Practice includes
1 EXCEL SPREADSHEET
Domenico Cristarella offers you this Best Practice for free!
download for free
Add to bookmarks