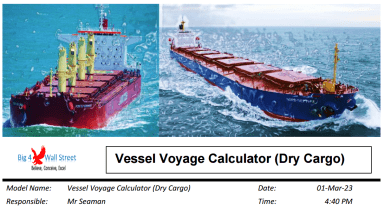 Vessel Voyage Calculator (Dry Cargo)
This financial model allows the user to calculate and compare 3 different vessel voyage estimations for dry cargoes ships.
Acquire business license for $119.00
Add to cart
Add to bookmarks
Further information
- Estimate up to 3 different voyage routes and compare them in terms of various operational and profitability metrics.
- Calculate the Gross Freight and Net Freight based on freight rates, commissions, and brokerage.
- Calculate fuel expenses based on vessel speed, vessel consumption at sea, during transits, and in port, as well as fuel prices.
- Calculate days for sea traveling, and loading / discharging, canal transit, bunkering, as well as bad weather allowance.
- Set various expenses related to port disbursements, hiring costs, and other expenses related to the voyage.
- Check the profitability of each voyage in terms of operating and net profit, as well as in terms of gross daily, net daily and TCE.
- Perform sensitivities on profit metrics and assess the risk of the voyage.
- Get an executive summary for each voyage.
- Present through a series of charts the performance and profitability of each voyage.

Only for voyage calculations for dry cargoes for the shipping industry
Cannot be used for other industries