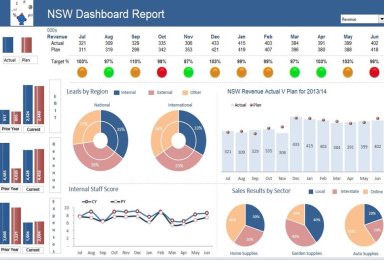 Traffic Light Excel Dashboard
This Excel doc. is a dashboard with great aesthetics.

by Marcus Small
Director at TheSmallman.com
Follow 636
Description
This dashboard from The Smallman is a great example of an aesthetically pleasing tool for reports. The use of traffic lights makes the report more easily understandable. Their use means that from a quick glance one can see how close to target the business is operating at different times. This could also be used for different metrics.

Besides its rewarding visuals, it is a practical and efficient tool. Pie charts, bar graphs and linear graphs bring clarity to the data. There is also space for recording performance analyses of social media campaigns. By using one's own generic organisational data, one can manipulate the data in order to appropriate the dashboard for different businesses and different regions. The drivers and conditional formatting can be changed to suit the user.

Users will gain the maximum benefit from this file if they are already competent spreadsheets users. The file is designed for people who use Excel on a regular basis, and are comfortable with using its tools and functions. Incorporation of new data should be plug and play considering the calculations you wish incorporated.

For many more Excel dashboards and other Excel files, visit the Smallman.com. There is sure to be one for every data representation.

If you have any questions regarding this tool, don't hesitate to reach out by starting a discussion below or private messaging directly through my Eloquens author channel.

If you've found this tool useful, show your appreciation by leaving a rating and a review!

-> If you want to acquire a full range of my Best Dashboards, have a look here: https://www.eloquens.com/tool/BN8rC7ld/startups/kpi-dashboards/premium-dashboard-models-the-very-best

-> If you want to learn with me how I actually build these Dashboards with dozens of best practices, check out my advanced video course here: https://www.eloquens.com/tool/dXVXtKZK/startups/kpi-dashboards/advanced-dashboard-design-course

- Marcus Small
This Best Practice includes
1 Excel Doc
Marcus Small offers you this Best Practice for free!
download for free
Add to bookmarks