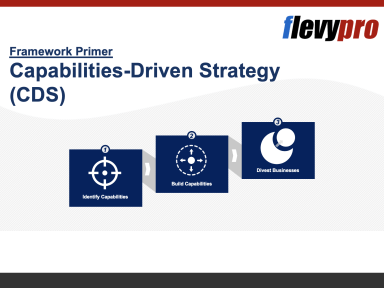 Capabilities-Driven Strategy (CDS)
A Capabilities-Driven Strategy allows us to remain competitive regardless of market conditions.

by Flevy
Best Practice Frameworks & Tools (used by Fortune 100) - Strategy, OpEx, Digital, Change, Process
Follow
Description
Formulating a Capabilities-Driven Strategy (CDS) is easy but execution is difficult, especially in turbulent times. This is not the time to find a cave and hibernate until the economic storm passes. It is unlikely that the storm will pass anytime soon. Capabilities-Driven Strategy is the only way to remain equipped for perpetually stormy weather.

Companies need to take care or build those capabilities that are genuinely needed and not those that do not serve our customers. Capabilities do not manifest themselves overnight. They take time to grow. But companies who have mastered the art of developing and implementing a Capabilities-Driven Strategy have grown to develop world's leading brands. Distinctive capabilities have been used to propel them to reach Operational and Organizational Excellence.

There is a 3-phase approach to CDS that organizations can master. This framework discusses the importance of CDS and its 3-phase approach:

1. Identify Capabilities - The intent of our initial phase is to identify and prioritize that set of coherent distinctive capabilities we want to be known for

2. Build Capabilities - Once the capabilities are identified, the next phase focuses on building and developing these Core Competences

3. Divest Businesses - The final phase is to divest those businesses that do not further the development of the identified capabilities

Having a good mastery of CDS will direct companies to achieve capabilities coherence essential in achieving growth.

This deck also includes slide templates for you to use in your own business presentations.
This Best Practice includes
PowerPoint presentation
Acquire business license for $29.00
Add to cart
Add to bookmarks