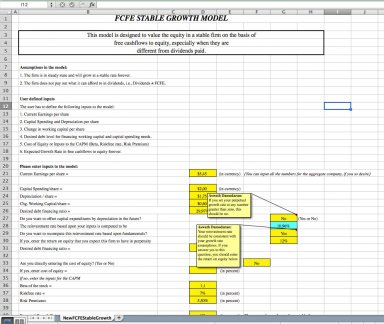 Free Cash Flow to Equity (FCFE) Stable Growth Model
Value the equity in a stable firm on the basis of free cashflows to equity
Prof. Aswath Damodaran offers you this Best Practice for free!
download for free
Add to bookmarks
Further information
Outputs:
Current Earnings per share
-(1- Desired debt fraction) *
(Capital Spending - Depreciation)
-(1- Desired debt fraction) *
∂ Working Capital
Free Cashflow to Equity

Cost of Equity
Expected Growth rate

Gordon Growth Model Value
Assumptions in the model:
1. The firm is in steady state and will grow at a stable rate forever.
2. The firm does not pay out what it can afford to in dividends, i.e., Dividends ≠ FCFE.

- Especially use when free cashflows to equity are different from dividends paid.
- Best suited for firms in stable leverage and growing at the same rate as the economy.