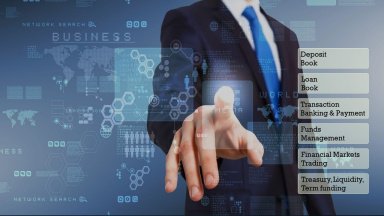 3-way Banking Financial Model converted into an App
Demonstration tool of a 3-way banking financial model converted into an interactive visualisation App
Acquire business license for $9.50
Add to cart
Add to bookmarks
Further information
To show how it is possible to transform even the most complex of models (this being of an entire bank) including dynamic simulations of mark to market valuation adjustments in the trading book, deposits, lending, funds management etc into a simple app.
When needing to convince key stakeholders who are not necessarily as close to the detail or as technical as the modeler but are nonetheless a key stakeholder to influence. Influencing someone who does not have a technical background is not always easy on a topic that is often fairly technical and detailed and things are not always as simple as they appear.

Now the tool can help transform what would be a static powerpoint presentation into a dynamic conversation.
Large data visualisations or slicing and dicing data similar to Power BI, Pivot tables, Tableau and the like. The visualisations are there to enable a dynamic editiing of underlying assumptions and extraction, its both ways therefore any form of 1-way large data flow is not applicable or useful.