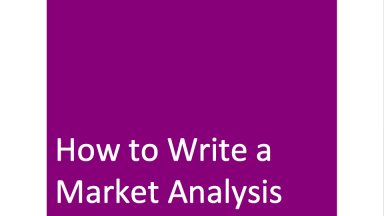 How to Write a Market Analysis
This piece by Michael Kerr details all you need to know when conducting a market analysis.
Introduction
Doing a market analysis might sound overly daunting and formal, but don't be dissuaded. It's actually really important, and it's not all that complex.


A market analysis is the process of learning the following:
> Who are my potential customers?
> What are their buying and shopping habits?
> How many of them are there?
> How much will they pay?
> Who is my competition?
> What have their challenges and successes been?


The market analysis is one of the most important parts of any startup strategy. It can actually help reduce risk because if you really understand your potential customers and market conditions, you'll have a better chance of developing a viable product or service.


It should also help you get clear on what exactly makes you different from your competition, which can make or break your chances of standing out in a crowded landscape.


However, don't fall into the trap of simply saying that your solution is for everyone. Ultimately, setting some parameters around your target market will help you focus your resources.


Ultimately, your market analysis should enable you to:
1. Avoid putting a lot of resources and time into creating a product or service before you've determined that your solution is needed.
2. Determine that the need for your product or service is big enough that people will pay for it.
Step n°1 |

Do you even need to do a market analysis?

Bear in mind that all new businesses are different, and strategies for structuring a business plan can be different depending on the goal of the plan or the intended audience. If your business is quite small and you know your customers inside and out, a deep, formal market analysis might not be the best use of your time.


For instance, if you are writing an internal business plan, meaning that you're not going to use it to try to secure a loan or other funding, you may not have a specific reason to spend time reviewing industry data to corroborate your financial forecast. Be sure to assess the value of this information for your business; determine why you're doing an analysis in the first place so that you don't waste time and energy on an unnecessary aspect of your plan.


On the other hand, if you're not absolutely clear on what makes your business different from the competition, or if you have made (but not tested) some assumptions about who will be interested in your product or service, you might want to consider at least an abbreviated market analysis. You'll want to make sure that the business you're building is solving a real problem, and that consumers both desire your solution and are willing to pay for it. A market analysis is a good way to get clarity.


Finally, if you are seeking funding, a market analysis is going to be key data to convince your audience that your business idea has the facts and hard numbers to back it up.
add_shopping_cartContinue reading for free (70% left)