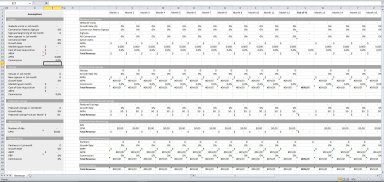 Two-Sided Marketplace Financial Excel Model
Excel Model and Explanatory PDF for a 2-Sided Marketplace focusing on a shared economy platform.

by Justin Potts
CEO at Kiteaihq
Follow 48
Description
2-Sided Marketplaces can be difficult. There's 2 different customers and 2 revenue streams, and both these segments have different factors that will have an impact on their performance, like growth or conversion.

This 2-Sided business model focuses on a shared economy platform that has multiple additional revenue streams.
(listers, renters, advertising revenue, featured listings, strategic partnerships)

Once each revenue stream was outlined, the next part entailed breaking down the most essential part for each item.

E.g. For something like featured listings, you should take into account how many you're beginning with, the price per month, and the growth rate for a featured listing.

To start off with, the focus was on the 2 most important parts of the equation- the listers and renters. For the renter part, average revenue per account, average frequency per account, growth rates, active users, conversion rates, the commission off each booking and site traffic are all included in this model. Off the back of this, monthly revenue was able to be calculated easily and month-over-month growth was applied using growth and conversion rates.

After connecting that with this venue side, frequency of bookings per venue was able to be assessed. If you assume an average revenue per account of $250 with 7.5% commission each for lister and renter, projected revenue for the month can be calculated.

This model allows you to work separately with each growth rate, and show renters growing slower than listers or vice versa. As well as this, you can isolate specific items in each, like the conversion rates for users or the frequency each venue is booked. The rate of the rates is even included.

Over time does the growth rate slow down? Does rate of user conversion increase?

The rest of the model has the same idea: outline assumptions, input, solve equation. After you understand the basic concepts it becomes easier to add additional streams as you go.

This model won't work in every case, but it seems to work pretty well for most 2-Sided Marketplace scenarios. It can also be easily modified for future financial projection projects.

Some things still need to be added. e.g. this model currently only works out revenue. In the future, a cost sheet and profit projections will ideally be implemented, whilst tying in things like marketing costs and the cost of user acquisition. For now it can be modified for personal use.
This Best Practice includes
1 Downloadable 2-Sided Marketplace Model
Justin Potts offers you this Best Practice for free!
download for free
Add to bookmarks