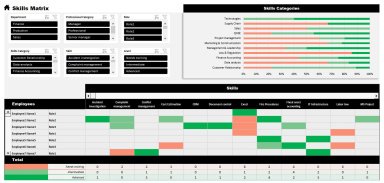 Skills Matrix Excel Template
Analyze training needs and manage your employees' skills using this customizable template
Nisrine LAHRECHE offers you this Best Practice for free!
download for free
Add to bookmarks
Further information
This template helps you improve the training and development plans, facilitates the ISO 9001 certification, and allows you to make your business last.
It is a practical and easy-to-use template, ideal for HR and managers who need to analyze and improve the skills available in their team or the entire company.