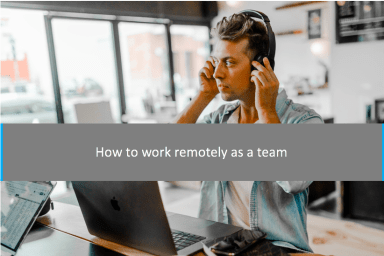 How to Work remotely as a team
During this pandemic, for most remote work is now a requirement. How can we continue teamwork remotely?
Introduction
Recently the ability to remote work and collaborate virtually has not only become important but essential. 👩🏼‍💻👨🏽‍💻


How can we maintain good teamwork when working remotely? 🧐 Team collaboration comes more naturally at the office 🏢. However, when you can't physically see your colleagues 👀, it may seem like they are unreachable. Remote work can be seen to have an endless number of obstacles standing in your way from being productive. This doesn't need to be the case.


Adapting to remote work means changing your management style 👨🏻‍💼, adjusting to new means of communication 🗣 and using online teamwork orientated tools 🖥.


Let's learn how to tackle these obstacles with a 9 Step guide on how to work remotely as a team 💬:
Step n°1 |

Establish a new set of values and expectations

During exceptional circumstances, where remote work is required, it is important for team managers to start off by establishing a new set of values and expectations 📋🚫✅. The values and expectations you set in the office, may not necessarily be in line with those for remote work. Some values may be harder to stick to, for example, trust 🤝. How can you completely trust your colleagues if you can't see them working at their desks at all working hours 👀⏰?


As Steve Jobs once said, "Teamwork is dependent on trusting the other folks to come through with their part without watching them all the time" 🗣. Good values to adopt for remote work are honesty and openness, team members should talk about their home/family life 👨‍👩‍👧‍👧 so that their colleagues understand the other commitments they may have 👩‍👦‍👦. It doesn't harm being honest with your team about when you are available, by blocking the time off you need each day in the calendar 📅. A well-informed team makes a happy team 😁. 

Step n°2 |

Determine key roles and responsibilities in your team

Alongside with Step 1, determining roles and responsibilities is equally as significant. As team manager your job is to bring clarity to the team at an uncertain time 🙄, by making sure everyone is aware of the key team roles and responsibilities linked to each task ✅. This can easily be addressed during your weekly meetings.

lightbulb_outline There are many types of task management software out there to help you keep track of which tasks need to be completed and by whom. It's good to keep an eye on the bigger picture 👁, by having a software that records the tasks over a timeline taking into account different project milestones. A good model to use is Henry Gantt's chart which will enable teams to visualise the project schedule and define the dependencies between various activities 📈.

Step n°3 |

Create an online team chat

Working remotely can often lead to feeling isolated as you start to lose sense of being part of a team 👤. In order to re-create a sense of belonging, it's important that your team has a dedicated online space for everyday communication. There are many instant messaging channels available, all you need to do is pick one and only one and start communicating 📲.

lightbulb_outline Why wouldn't you continue your daily greetings as you would in the office? 🤷🏻‍ By saying a virtual 'Good Morning!' and 'Have a nice evening!' at the start and end of each day, this will undoubtably lift team spirit 👋🏼. Daily communications will also motivate your team as a gentle reminder 🛎❗️ of what they are a part of. 
add_shopping_cartContinue reading for free (70% left)