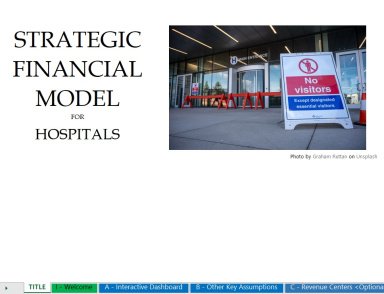 Hospital Strategic Financial Model
5-year financial model in Excel for hospitals that show P&L, financing and valuation impact of strategic plans.
Acquire business license for $388.00
Add to cart
Add to bookmarks
Further information
The tool is best suited to assist senior leaders in assessing high-level impact of strategic plans on financial results including profits, financing and valuation.
This tool will be valuable in guiding high-level strategic planning, financial planning and budgeting, potential financing and indicative valuation.
This tool may not be best suited for detailed, line-by-line/account-by-account budgeting, or negotiation of detailed financing terms including positive or negative covenants, or detailed valuation parameters.