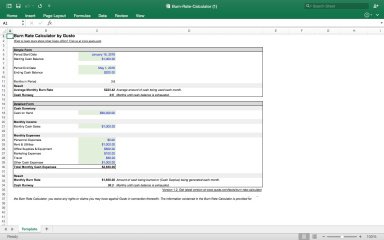 Burn Rate Calculator
Simple and easy to use tool for calculating the cash burn rate of your business

by Gusto
Financial Services Company
Follow 15
Description
When starting a new business venture, you will have to invest large amounts of money to allow you to build a company that will last.

As such, it is absolutely essential to calculate your business' cash burn rate. This calculator tool will help you estimate the date that your business will run out of cash, based on its current rate of csh burn.

This tool will give you two different forms based on your company's current rate of expenditure. Both a simple and detailed form regarding your business' financial performance are provided by this calculator.

This simple form will allow you to calculate your business' average monthly burn rate (ie. the average amount of cash being used on a monthly basis) as well as the cash runway (how many months until the cash balance is exhausted). This is automatically calculated based on simple input data: the start and end dates as well as the starting and ending cash balances.

The detailed form will break down the simple form into more detailed data. This form will allow you to calculate not just how much cash is being used, but which areas it is being used in. For instance, you can calculate and document different kinds of expenses, such as personnel, rent, office supplies, marketing expenses and travel. As such, it will allow you to highlight areas where cash may be being wasted or overspent. This information will then be used to calculate your total monthly cash expenses and your company's monthly burn rate and cash runway.

This tool represents a quick and easy way of calculating your business' overall monthly expenditure and the rate at which your cash resources are being used up. This is an essential tool for any new business.
This Best Practice includes
1 Excel Spreadsheet
Gusto offers you this Best Practice for free!
download for free
Add to bookmarks