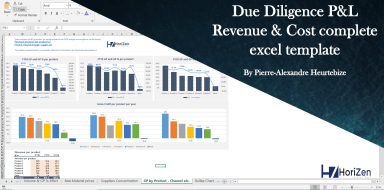 Due Diligence P&L - Exhaustive Revenue and Costs analysis template
Financial Due Diligence exhaustive P&L model for Revenue & Costs Analysis. Big-4 like checklist of financial due diligence analyses.
Acquire business license for $249.00
Add to cart
Add to bookmarks
Further information
Give an objective playbook for anyone looking to perform due diligence on the Revenue and Costs of a target business.
Investor looking to analyse a target. Transaction Services professional performing Financial Due Diligence. Buyer looking at acquiring a company. CFO looking to better understand costs and revenue.