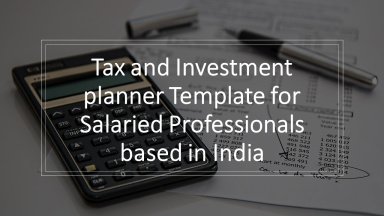 Tax and Investment Planner Template (INDIA)
Tax and Investment Planner out of salary Income, for Salaried Professionals based in India.
Padmaa Iyer offers you this Best Practice for free!
download for free
Add to bookmarks
Further information
Offer the user a tool that helps in visualizing monthly salary takehome and also understand how tax payout can be optimised and investments well-planned.
If you work in private sector in India.
If you work in a country outside of India the tax and payroll rules maybe different, however you may still download the file and maybe modify it for yourself.