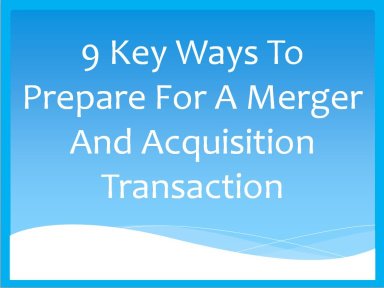 How to Prepare For A Merger And Acquisition Transaction Using 9 Tactics
Here you will find 9 key ways of preparing for a merger and acquisition transaction.
Introduction
Advance preparation is key to a successful Merger & Acquisition (M&A) transaction for a seller. M&A transactions can be time consuming and stressful for a company and its management team. The following are some important things a company can do to maximize the likelihood of a successful sale, in connection with the sale of a privately held company.
Step n°1 |

Non-Disclosure Agreement

Step n°2 |

Investment Bankers

The company should consider hiring an investment banker to assist it in the process. Investment bankers can be useful for finding prospective buyers and acting as an intermediary in negotiations. Follow these four tips:


> Make sure the banker has given you a list of who they think the likely buyers could be, with annotations concerning their relationships with those potential buyers.


> Carefully scrutinize and negotiate their "standard" form of engagement letter (most are unreasonably favorable to the banker and can be negotiated).


> Check references from clients.


> The banker should also advise as to market comparables.
add_shopping_cartContinue reading for free (70% left)