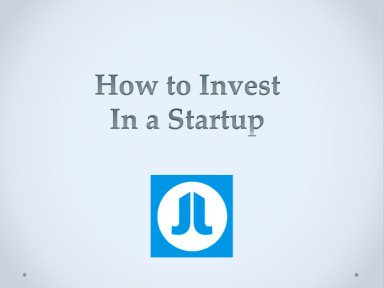 How to Invest in Startups
This guide contains an insight on why and how to invest in startups.
Introduction
The following is a fleshed out written version of the points I made in a presentation about startups last night at The Black Onyx private members City networking club.
Step n°1 |

Economic Outlook

We are in the process of moving from an economy based on the industrial revolution to one based on the new information revolution and shaped by digital technologies which dramatically change how people organise themselves and do business.


Market leading technologies are now available at the consumer level, such as cloud subscription services and social media networks, which not only level the playing field, but mean that traditional organisations with their legacy overheads and bureaucracies are increasingly uncompetitive. Hierarchical and controlled big companies are in the process of being replaced by more agile networks of free thinking individuals brought together and organised through the internet. As a result, the rise in self-employment and entrepreneurship will continue apace and successful businesses will be marked by such characteristics as the ability to connect individuals and to develop open source as opposed to proprietary systems.


Two years ago Marc Andreessen (founder of Netscape and investor in the likes of Facebook, Twitter, Skype, Groupon and LinkedIn) was interviewed by the Wall Street Journal, where he explained why 'software is eating the world'. He demonstrated the fact by pointing to the fact that the world's biggest bookseller is now Amazon, the world's biggest music retailer is Apple's iTunes and the fastest growing telecom company is Skype. All are software companies who utilise the internet to sell and serve their products and services and the same principles can be applied to nearly all other businesses.


The growth of Web 2.0 (the '2nd version' of the web where websites act like software as opposed to static pages of content) will lead to more and more web based and software focused platform companies that will dominate their competitors and change the way their markets function. With the emergence of e-commerce software platforms like Shopify and Magento it has never been easier to setup your own online store and start selling products online, although without the overheads of running a physical store and with your products on display to a much wider international audience of potential customers.


Also, for service based businesses, the rise of social media and search engines like Google have made it incredibly cost-effective to acquire customers, while many such businesses are having to change their business models by becoming more like web publishing companies and monetising their knowledge through online content and networks. I think this change is particularly relevant to how legal services are provided.


Another developing trend is that many of the best companies are staying private for a long time in order to avoid the regulatory overload that being a public company entails, while modern companies don't need the same level of finance provided by an institutional shareholder base in order to scale their business on the web. They also don't need to fund the armies of employees that used to characterise successful businesses and instead look to grow their ecosystem and community of self-employed contractors that new communication technologies facilitate. Its worth noting that the number of publicly traded companies has dropped by half in the past 12 years.


As a result of these technological changes, the status quo and market incumbents are in trouble everywhere. Long established but unwieldy FTSE companies and banks are proving to be unfit for purpose in a digital age. Whether the government or the corporate elites like it not, and no matter how much they try to bailout the banks and impose top down solutions, we are entering an unprecedented period of creative destruction driven by entrepreneurial and technology focused startups that are able to deliver superior products and services.

Step n°2 |

Different ways to invest

Startups have always mostly been financed by risk capital, i.e. equity investment where the risk is shared with the entrepreneur(s). Although it has always been possible to get a small loan from a bank (to the extent the lender thinks you can repay it), for any significant financing debt has never usually been possible because the startup will commonly not have assets that the bank can register security against and there is no trading record to give the lender comfort.


a) VC firms
Venture capital firms have been the traditional way of providing equity funding. When new business creation was more unusual and much more capital was needed to start and scale a business these firms were able to provide sufficient funding, while because of the larger sums at risk venture capital firms could manage the added cost of legal work, valuations and other administrative expenses that went into the process. Venture capital firms remain relevant for startups raising larger rounds of funding, but it must be remembered that they are formal organisations with high overheads that will need to extract sufficient pounds of flesh even if they rely on the presumption that only a few in their portfolio will deliver a significant return and the elusive 'home run'.


b) Angel investors
As startups proliferate and the capital that they require to scale and generate revenue reduces, angel investors (commonly successful entrepreneurs who have a knowledge of business and technology) have increased in number and prominence. Angels have always been around but are becoming more common as the capital needed for a startup becomes less and less, startup entrepreneurs proliferate and it becomes easier to put together the legal paperwork required to conclude a deal. Also, in recent years the UK government has offered angel investors significant tax incentives in the form of the Enterprise Investment Scheme ("EIS") and the Seed Enterprise Investment Scheme ("SEIS") (more about these two later on).


As a result of the EIS and the SEIS several funds focused on startups (such as Ascension Ventures) have developed that seek out opportunities and invest on behalf of their individual investor clients. Such funds act as a nominee to hold the shares in the investee company, but for legal and tax purposes the individuals are the beneficial owners of their shareholdings. Also there are now many online networks and resources that make it easy to find angel investors and pitch your business opportunity to them. Two examples that spring to mind are the Angel Investment Network and Angel List.


c) Convertible loan notes
Particularly in the US, many startups receive investment via convertible loan notes which are evidence of a loan which is then convertible into equity at a later date, at specific rates or in response to particular events. They allow investors to achieve a healthy yield and obtain the benefits of a call option over shares in the issuer at a fixed price, which is usually exercised when a VC comes in at a certain valuation. Accrued interest is factored into the conversion, up till then the startup doesn't usually service the debt.


d) Revenue participation notes
Another slightly more unusual form of finance is a revenue participation note. These are described as 'quasi equity', in that they combine the note (a typical loan plus coupon) plus a revenue participation structure (percentage of sales for a defined period of time) that gets capital to the enterprise without affecting its ownership, goals or mission. As a result, if the startup is seen as a good prospect the lender/investor believes he/she will be adequately compensated for the risks involved. The only time I have put something together like this before was for a web developer who worked on a project for a friend in his spare time. The web developer investor then received a share of the revenue and interest once the site went live.


e) Crowdfunding
In the US rewards based crowdfunding sites like Kickstarter have already proved hugely popular. These sites work by letting the investee company receive donations in return for which they reward their investors with perks, pre-sales and other things of value, thus not falling foul of the US's securities regulations.


However, in the last couple of years the UK has been leading the world in the development of equity based crowdfunding, principally through Crowdcube and Seedrs which effectively allow startups to do their own mini-IPO and raise money from an army of 'armchair dragons' who can invest anything from £10 upwards in return for shares in the company that allow them to benefit from the potential upside of future dividends and capital gains. Such crowdfunding means startups can leverage the knowledge and influence of the 'crowd' and makes raising finance much easier through such features as transparent due diligence, standardised procedures and online payments.


With Crowdcube investors commonly receive B shares which only entitle them to income and capital, whereas more significant investors can receive ordinary A shares that also allow them to vote on certain issues. Like Crowdcube, Seedrs also screen startups to try and have a degree of control regarding the quality of startups on their platform, but instead of different classes of shares they have a nominee structure where Seedrs hold the legal title to the shares and monitor and enforce shareholder rights for the investors who receive the benefit of the investment. This gets rid of the administrative hassle of dealing with so many voting shareholders that puts off future investors, but also encourages the companies to be much more respectful of their backers.
add_shopping_cartContinue reading for free (70% left)