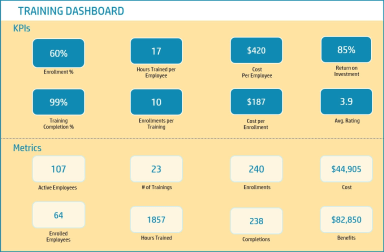 Training (Learning & Development) Dashboard Excel Template
Our Training Dashboard Excel template is all you need to simplify and optimize training programs in your organization.

by Indzara
Simple & Effective Spreadsheet Tools & Processes
Follow
Description
Learning & Development majorly focuses on upskilling and reskilling employees to enable them to enhance performances or take up newer roles within the organization. This helps organizations nurture, maximize and retain the talent pool. It also increases employee satisfaction and decreases turnover rates.


Indzara's L&D template offers a simple and effective process for measuring and improving training programs in your company with an Excel Sheet template. 


We have curated this Dashboard with a simple process:

1. Identify training needs
      - Work with your people managers and employees to identify the needs of your organization.
2. Create training offerings
     - Work with internal trainers to create training needed or reach out and schedule with external trainers.
3. Encourage enrolments
      - Inform employees about training availability and encourage enrollment
 4. Record Benefits along with employee feedback
      - Gather feedback from employees about the trainings as well as their benefits to the employees
5. Measure program Effectiveness and Efficiency
     - Identify opportunities to improve and implement changes.
     - Make critical business decisions driven by data. Determine which trainings should be expanded, which ones should be retired and more.


Our Dashboard provides different amazing insights which can help measure your training process:
   - What investment choices to make with regard to external training sources?
   - How to improve ROIs on these trainings?
   - Which trainings drive the most ROI?
   - Which training categories are popular amongst employees? And a lot more!
   - You will have instant access to 17 KPIs and Metrics including Cost per Employee and Return on Investment.


Our promise is that within minutes, You shall have:
    - A clear and simple streamlined Training L&D process.
    - Spend less time in data entry and more time discussing training with people managers and employees.
    - Have instant access to important Training KPIs and metrics
    - Have amazing insights about your training program.
     - Identify departments or trainers that are doing well in the KPIs. Implement those best practices across the entire company, thus improving overall training effectiveness and efficiency.
     - Finally, you can present all this rich insightful information in a simple automated dashboard to your company leadership, anytime on demand.
This Best Practice includes
1 Excel Template and 1 Excel Template with sample data.
Acquire business license for $49.00
Add to cart
Add to bookmarks