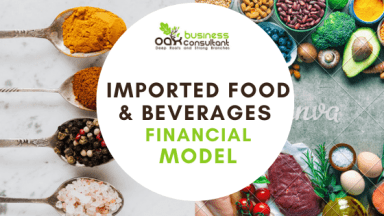 Imported Food and Beverages Products Financial Model
The Imported Food & Beverages Products Model, Perfect for all Food item Business with all necessary inputs and tables.

by Sadaf Abbas
CEO- Oak Business Consultant
Follow 35
Description
Our Financial Model is designed to help you make informed principal business and financial decisions bases on accurate reporting. The Imported Food and Beverages Products Financial Model contains all relevant statements based on widely accepted international standards.

The objective of this financial model for Imported Food and Beverages Business made by an expert Consultant is to help the user in profitability planning, liquidity planning, valuation of the company, and utilization of funds.

By Using real-time data, this Financial Model allows you to trace KPIs such as net margin, sales to profitability ratio, gross margin ratio, as well as projecting future revenue performance, based on the Cost of product and other operating expenses.

In the model, Oak Business Consultant has included a project valuation, startup costs, investment or loan amount required, that auto-adjusts on a defined base daily sales per serving type, a range of visuals to provide cash flow position over time along with debt service, and cash requirements.

Features of Imported Food and Beverage Products Business Financial Model

The workbook contains editable real-world revenue and expenses figures and comprises the following features:

Input Sheet

The whole idea of building the Input sheet is to create a dynamic set of projections about the business. It contains all relevant inputs like costs of service, investments, personnel expenditure, general and administrative expenses, and revenue assumption.

Start-Up Summary

This sheet provides an analysis of all the investment requirements of a new start-up and helps the business to present a snapshot of the company to prospective investors and help to raise capital.

Monthly & Yearly Income Statement

The Monthly Income Statement sheet for Imported Food and Beverages Products Business Financial Model is perfect for those who require regular reporting and details. Additionally, Income Statement contains all revenue streamlines with gross earnings, net earnings linked with revenue analysis to ensure accurate reporting.
We understand the goal of every Imported Food and Beverages Products Business Financial Model business is to make a profit for that there must be a mechanism that helps the business owners to determine whether they are making profits or otherwise.
Furthermore, the Yearly Income Statement gives you complete insights into revenue and general & administrative expenses. The Yearly Income Statement also contains several graphs, assumptions, ratios, margins, net profit, earning, cost of services, and profit after tax

Balance Sheet

Monthly and Yearly Balance Sheet included that is linked with Cash Flow Statement, Income Statement, and other relevant inputs. The statement provides the user with a complete overview of the current 3- years projection of your Assets and Liabilities and Equity Accounts.

Cash Flow Statement

We prepared receivable and payable days to help users accurately predict cash activities, including free cash flow to the firm. For customers' ease, these receivable and payable days are set as Input so that the customer can change anytime he wants. This sheet also helps you to manage the cash in and outflows.

Break-Even Analysis

The break-even analysis will help you to know at a glance the profits generated at the various levels of sales. The safety margin refers to the extent to which the business can afford a decline before it starts incurring losses.

Project Evaluation

Since the table calculates Return on Investment, Investor's Future Equity Share and Cash Burn Rate Analysis. Therefore, analyzing the performance of the company becomes easy.

Dashboards

Users and readers respond and process visual graphs better than data. Furthermore, charts visually track profitability, revenue, cash flow, and several other financial metrics.

Diagnostic Sheet
we added a unique table that automatically calculates the key metrics such as gross profit margin and profitability etc, which provides financial commentary about the financials of the company

Why do need this Model?

There are several reasons for the need for a financial model template as a startup or a well-established business. The business owners need the model to build and forecast an economically feasible business, to be better prepared for the future uncertainties, to communicate the company's performance to potential investors or shareholders, or to set goals for the business.
This imported Food and Beverages Products Financial Model is flexible and dynamic in both design and technique. It is highly adaptable for the user in the long run. Therefore, all modifications and scenarios can be changed in any field successfully. Moreover, Financial model all necessary Calculations and estimation are visually represented on a dashboard. You don't need to move sheets to compare data.

This Best Practice includes
1 Excel Model
Acquire business license for $250.00
Add to cart
Add to bookmarks