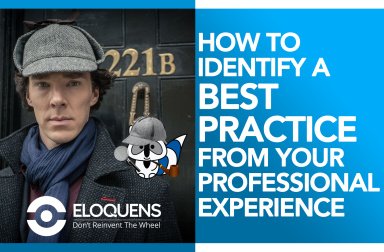 How to Identify a Best Practice from your Professional Experience
Some simple steps to help identify🔎 your first Best Practice💎 for Eloquens.
Introduction
Have you ever had a moment that was intensely bitter-sweet? A perfect juxtaposition of extreme happiness yet the most depressing melancholy? My boss Tim, the co-founder of Eloquens.com, recently had a moment like this, when I taught him you could add Emojis to text on a mac by holding 'ctrl+cmd+spacebar' rather than copy and pasting them individually from emoji.com - and he uses them a lot.😢

For some time he just held his head in his hands, as he mourned the hours he had lost after years spent being totally inefficient. But this was equaled by his excitement and relief as he contemplated how from that day on, his life would never be the same again. Tim had just learnt a Best Practice.💎😁


So what exactly is a Best Practice💎? The Cambridge dictionary defines a Best Practice as: 


'a working method or set of working methods that is officially accepted as being the best to use in a particular business or industry…'


For example, take Eloquens' slogan: 'Don't reinvent the wheel.' Despite being invented thousands of years ago⏱, there has never been a rival to the wheel for accomplishing its purpose; rolling.🚗


But shouldn't we be striving to innovate💫 instead of settling with old methods? Absolutely! Best Practices💎 are not mutually exclusive to the pursuit of innovation - the two actually go hand-in-hand. This is because innovation is needed to uncover and update industry Best Practices.💎 (Swart, 2011).


Simply put, in certain cases, such as that of the wheel, there are working methods that are universally🌍 recognised as being near-perfect in terms of usability, productivity and attention to detail. So until we see Elon Musk👨‍🔧 unveil the levitating car or a Cyber Truck that rolls on 6 spherical tires, I am inclined to believe that the wheel will remain a Best Practice💎 in the automobile sector. Other examples of Best Practices could be: any form of professional template (slide deck, CV, contract), an Excel step-by-step method with inbuilt formulas, a video/series of video tutorials etc. But it really applies to any content you have that is of very high quality and that others could find useful.👌


So how does Eloquens fit into the picture? Eloquens is the world's leading online marketplace for Best Practices💎 in the domains of: Finance, Strategy, Startups, Legal, HR, Marketing and Technology.🙌 We provide a platform for professionals to share and download top-tier Best Practices that have been acquired over years of industry experience. These can be free or purchasable; every year some authors make a passive income equivalent to a year's worth of salary💰 just by sharing their own Best Practices.💎


Now let's take a look at some simple steps you can take to identify your own Best Practices💎; your career is a treasure chest of them. https://about.eloquens.com/your-career-is-a-treasure-chest-of-your-best-practices/


Identifying your First Best Practice for Eloquens: From the readily-available, low-hanging fruit🍇 to a thorough scrape of the bottom of the barrel!
Step n°1 |

The Everyday Hero🤠

Think about your day-to-day work. Are there any working methods that you could not live without? Something that empowers💪 you as you conduct your daily business with super-human efficiency? Could they be useful to others as well if transformed into a universal Best Practice💎 or template? Don't be a villain👿; share your powers with the world!

lightbulb_outline E.g. : FinExMod ->https://www.eloquens.com/company/hedieh

Think about your areas of expertise. Are there techniques you have perfected through years of practice? Perhaps a working method that you aced🎾 and are proud to have come up with, because not many others could do what you do? By sharing your knowledge and tactics, you can help others to raise their game and gain the recognition you deserve on the world stage!👏

lightbulb_outline E.g: Lance Rubin ->https://www.eloquens.com/channel/lance-rubin
add_shopping_cartContinue reading for free (70% left)