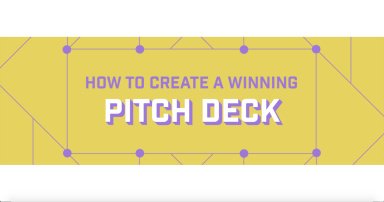 How to Create a Winning Pitch Deck: Startup Cheat-Sheet
All you need to know to create a winning pitch deck.
Introduction
So, you want to wow investors with an amazing pitch.


You may be tempted to jump straight into Keynote or Powerpoint to get started. Don't do it! Here's the secret to a great pitch:


It's not about the slides; it's about the story.


So how do you tell a compelling story about your company to investors?


First, figure out which type of story you should be telling and make that narrative into a sandwich, emphasizing the key point at the beginning and again at the end. Next, use your problem and solution statements to emotionally and intellectually engage your audience, and be sure to adequately address all the expected areas in the deck. With all that in mind, you'll be ready to follow a three simple steps to craft your winning deck.
Step n°1 |

Choose the right story to tell

The first and most important thing to decide about your pitch is which story you should be telling. Fiction may have seven plot archetypes, but pitches tend to fall into one of four narratives, listed here in order of strength:


> Traction. This is the story you want to be telling. Maybe your revenue or user base is growing really fast (> 20% month-over-month), or you've closed deals with a major customers or partners. If you have traction that will impress investors, then tell a traction story.


> Team. Maybe you don't have wow-factor traction yet, but you and your cofounders are successful second-time founders or have a management team with impressive pedigree. In that case, tell a people story.


> Technology. Or perhaps you don't have strong traction but have created a technological breakthrough in an important field. Then you could tell a technology story.


> Vision. This is the story of last resort. If you don't have impressive traction, a highly regarded team, or a technological breakthrough, then you have to fall back on a vision story of how you want to change the world.


Be realistic in your self-analysis of what qualifies as "impressive." Every founder thinks they have an awesome team and technology; the question is, what will investors think? If you're not sure which story you should tell, then get some feedback from investors or other founders. (Andrea Barrica, a former 500 Startups pitch coach, wrote a blog post discussing these four narratives and other pitching tips.)

Step n°2 |

Make a sandwich

To capture investors' attention and help them remember you, open the pitch with your company's single most impressive achievement to date, and then highlight that achievement again at the very end. This what Dave McClure likes to call the "traction sandwich" (though it could also be a team sandwich or technology sandwich).



Open the pitch with your company's highest achievement.



If you're telling a traction story, then call attention to your traction in the first 30 seconds. If it's a people story, then open by highlighting your awe-inspiring team. You want to capture the audience's interest at the very beginning so they sit up and pay attention, and then leave them with that One Thing To Remember at the end.
add_shopping_cartContinue reading for free (70% left)