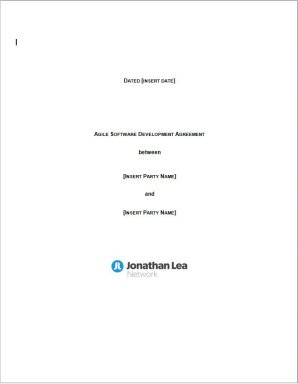 Agile Methodology Software Development Agreement Template
Standardized word document templates for an Agile Software Development Agreement & Statement of Work.

by Jonathan Lea
Corporate and Commercial Solicitor focusing on Tech Startups
Follow 111
Description
In this tool you will find standardized templates for:

1. Agile Software Development Agreement (28 pages)
2. Agile Development Statement of Work (10 pages)

These have been based upon real-life versions, where software developers have said they will provide bespoke software products and services to their clients. You will find numerous terms and provisions that are specific to work being done using agile methodology.

The main agreement is a master services agreement. This has been designed to go alongside statements of work that correspond with the main agreement. It can be agreed on and signed when the work is needed. These statements of work should outline the nature and specification of the products/services/software that will be delivered, as well as their design, build, performance, and quality standards. A roadmap with any notable timelines for delivery and implementation, the charges that must be paid, tests and acceptance criteria, and user requirements so that the software can be benchmarked must also be included. Until both parties have signed the statement of work, neither party is obliged to carry out or request any services.

Development activities and milestones within the agreement should be implemented within fixed periods of time, aka sprints, which can be monitored via planning and review meetings. They also have budgets that must be adhered to. A warranty period is also included in the agreement that the developer will agree to fix any defects that the customer may find in the software after it has been deployed in a live environment.

Anything that has square brackets around it indicates that you will need to amend, verify, or add info. As aforementioned, the statement of work template has been based on a real-life example, and so contains numerous instances where it has been worded like so for illustrative purposes only, and therefore should be tailored to suit your specific requirements for your project.

The original versions were made in Google Doc format, and so have had to be adapted for word. This is why they are not as neat as intended.

If you would like to put together or negotiate your own unique agile software development contract, please get in touch so that a call can be arranged. This way a quote can be provided for you.
This Best Practice includes
1 Agile Software Development Agreement Template, 1 Agile Software Development Statement of Work
Jonathan Lea offers you this Best Practice for free!
download for free
Add to bookmarks