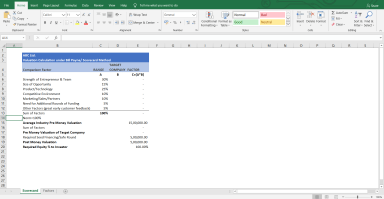 Bill Payne/Scorecard Method
Bill Payne Method to value start-up.

by Shakib Saifi
Heavily engross in start-ups, valuation and operational models.
Follow

with Bill Payne
Business executive, entrepreneur and Angel Investor
Follow 12
Description
The Scorecard Valuation, also known as the Bill Payne valuation method, is one of the most preferred methodologies used by angels. This method compares the startup (raising angel investment) to other funded startups modifying the average valuation based on factors such as region, market, and stage.

This top-down approach compares a startup to other typical startups at the same stage (investors benchmark the "standard" value of a pre-seed or early-seed company in this case), within a geographic region and startup-sector (regtech, digital health, fintech, SaaS, etc.).

The first step in using the Scorecard Method is to determine the median pre-money valuation of pre-revenue companies in the region and business sector of the target company. Pre-money valuation varies by geography within the US economy and with the competitive environment for startup ventures within a region. In most regions, the pre-money valuation does not vary significantly from one business sector to another.

The next step in determining the pre-money valuation of pre-revenue companies using the Scorecard Method is to compare the target company to your perception of similar deals done in your region.

A Valuation Worksheet is provided in the appendix to this document to assist readers in judging the relative strength of target companies for the above categories.

Key to the Scorecard Method is a good understanding of the median (and range) of pre-money valuation of pre-revenue companies in a region. With this data in hand, the Scorecard Method gives angels subjective techniques to adjust the median valuation of local startups in similar business sectors to arrive at a pre-money valuation for a target seed stage company. Savvy entrepreneurs can use these tools to prepare for negotiations of valuation with investors.
This Best Practice includes
1 excel spreadsheet
Acquire business license for $50.00
Add to cart
Add to bookmarks