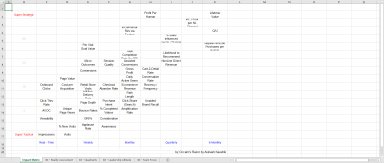 Analytics Impact Matrix
Simple, easy to use analytics impact matrix

by Avinash Kaushik
Author, Blogger, Digital Marketing Evangelist
Follow
Description
This Excel model provides a simple and easy to use analytics impact matrix. Using this tool will allow you to analyze the potential benefits of each of your business' tasks, whilst comparing these benefits to how easy or time consuming each task is to complete.

As such, this Excel model will allow you to simply and effectively prioritise your analytical tasks, giving you the basis to then concentrate on the most beneficial tasks that are worthy of your time.

The model is split into 5 different tabs, helping you to create a strong, analytical overview of your tasks. These tabs are:

- Impact Matrix
- IM - Reality Assessment
- IM - Quadrants
- IM - Leadership Altitude
- IM - Team Focus

These tabs will help you to split your analytical tasks between the tactical and the strategic, as well as defining your analytical tasks based on time period, whether they are to be completed in real time, weekly, monthly, quarterly or 6-monthly.

The reality assessment tab will allow you to highlight the analyses that are, in reality, those that are worthwhile completing.

The following tab divides the task into 4 quadrants. This will help you to categorize your tasks under the following:

- Solid Foundation
- Intermediate
- Advanced

As such, this will quickly give you an idea of which tasks will most easily completed, and which require a more advanced skillset.

Next, the leadership altitude tab will allow you to further categorize your tasks based on who should complete them. This will help to distinguish between tasks that should be automated and those that should be completed by managers, directors or CMOs/VPs.

Finally, the team focus tab will help you to further distinguish between tasks based on the following:

- Automate
- Reporting
- Analysis
- Meta Analysis

Ultimately, this Excel model is an incredibly helpful tool that will help you to categorize all of your analytical tasks in terms of importance, time scale, leadership and team focus.
This Best Practice includes
1 Excel Spreadsheet
Avinash Kaushik offers you this Best Practice for free!
download for free
Add to bookmarks