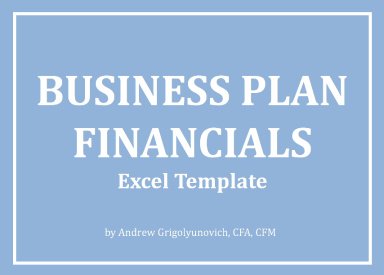 Business Plan Financials Excel Model
This is a highly-professional financial model for your company's business plan.

by Andrew Grigolyunovich, CFA, CFM, FMVA
Founder & CEO at The Financial Modeling World Cup
Follow 163
Description
This is a detailed financial model, essential for those wanting to make their business plan professional and effective.

Instantly downloadable and ready-to-use, this business financial excel model will allow you to create a financial plan for your company for the next five years.

Within this model are the following sections allowing for data input, all adjustable to the specific needs of your company:

Assumptions: Containing the main assumptions for your company

Profit and Loss Statement: Including manufacturing costs, SG&A costs, Income before extraordinary examples, and Profit before taxes.

Balance Sheet: Including Assets, Equity and Liabilities, and Control

Cash Flow Statement: Cash and cash equivalents at the beginning of the period, cash and cash equivalents at the end of the period.

Sales Plan

Financing: This contains input for loans, equity investments, liabilities, interest payments, dividends for preferred shares, equity attraction fees, loan initiation costs.

CapEx: Capital Investments

Use of funds: Expected sources of funds, use of funds including loan interest, preferred share dividends, and loan principle.

If you have any questions or problems with the model, either start a discussion below, or you can message me directly by private message via my Eloquens author channel.

If you've found this tool useful and that it has saved you time, please show your appreciation by leaving a rating and review below!
This Best Practice includes
1 Excel Spreadsheet
Acquire business license for $9.00
Add to cart
Add to bookmarks