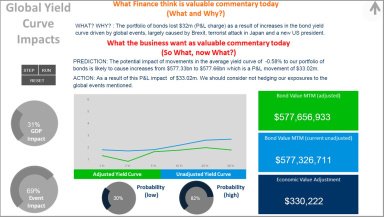 Yield Curve Simulation Excel Model & Automated Commentary
Yield Curve Simulation Model (automated commentary) showing global impacts of yield curves on bond valuations
Acquire business license for $25.00
Add to cart
Add to bookmarks
Further information
To reflect how its possible to not only provide higher financial literacy but also to automate but historical and forward looking commentary using nothing else by Excel and a few fancy formulas. The tool also demonstrates a complex global trend in yield curve volatility due to events that occur and how these can impact bond valuations.
Education, automation and innovation
Commercial and client engagements without some degree of customisation.