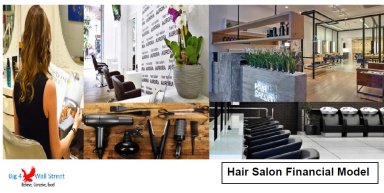 Hair Salon Financial Model
Hair Salon Financial Model presents the business case of a brand-new start up Hair Salon.
Acquire business license for $79.00
Add to cart
Add to bookmarks
Further information
The model generates the three financial statements as well as the cash flows and calculates the relevant metrics (Discounted cash flows, Net Present Value, Internal Rate of Return, payback period, profitability index, enterprise value etc...). The financing options for the project include a standard long-term loan as well as an overdraft facility and of course equity funding from investors.

This financial model template will enable you to:

- Plan your sales revenue and product mix
- Seasonality mechanism per month to account for fluctuations in your business
- Analyze profitability by product type
- Setting up products, pricing, sales mix and costs by product.
- Forecasting variable costs, labor costs and fixed costs
- Set the initial investment amount and the refurbishments / equipment needed
- Set the relevant currency and timing
- Create the three financial statements (Profit and Loss, Balance Sheet and Cash Flow) on a yearly basis
- Financial Ratios to check the viability of your business
- Printable model as PDF for your investors