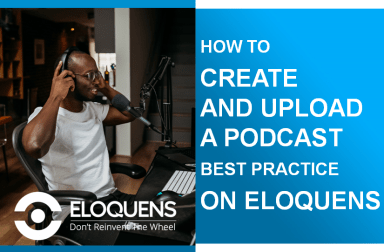 How to Create and Upload a Podcast Best Practice on Eloquens
Engage with your audience through 𝗣𝗢𝗗𝗖𝗔𝗦𝗧𝗦. 🎧 See our 5 simple steps 👣 on how to get started. 🚀
Introduction
As the demand for podcasts 🎤 is continuously increasing 📈 , with 75% of Americans already familiar with podcasts (and a 10 million increase in listeners over the last year only, data for Q4 of 2020 ➡ based on the Edison Research Study), why not to try out this means to share your Best Practices 💎 and transmit your business experience 💼 ?


The average podcast listener is educated, employed full-time and, what's the most important, CURIOUS. They are looking for solutions to issues they face in their business and personal lives and they are willing to learn. What's more, they have busy schedules so they try to utilize every minute ⏰ to its best: for example by listening to podcasts during their daily commute. 
▶ Are there any similarities between the average podcast listener and Eloquens user? 🔎 Have a look at the Eloquens User Base Analysis (https://about.eloquens.com/eloquens-users-community/ ) and check for yourself. 😉


We want to give you an opportunity to engage with your audience through a different format of Best Practices: PODCASTS! 💎🎤
Below you can find 5 simple steps 👣 to get started and CREATE A BEST PRACTICE-PODCAST AND UPLOAD IT TO ELOQUENS. 🚀
Step n°1 |

𝗖𝗛𝗢𝗢𝗦𝗘 𝗥𝗘𝗟𝗘𝗩𝗔𝗡𝗧 𝗖𝗢𝗡𝗧𝗘𝗡𝗧 𝗙𝗢𝗥 𝗬𝗢𝗨𝗥 𝗕𝗘𝗦𝗧 𝗣𝗥𝗔𝗖𝗧𝗜𝗖𝗘-𝗣𝗢𝗗𝗖𝗔𝗦𝗧

First of all, decide what subject you want to talk about in your podcast. 🎧 Choosing some relevant content for your publication on Eloquens is key. Make sure that your podcast fits into the style of a "Best Practice" 💎. 


But what does that mean? It should address a particular issue, answer a question "How to…?" 🤔, explain a Best Practice in a certain field… Options are countless as long as your audience will leave your podcast with the feeling of having learnt something. 💡 We want them to say: "Yes, this is a Best Practice!". 😊

Step n°2 |

𝗥𝗘𝗖𝗢𝗥𝗗 𝗧𝗛𝗘 𝗣𝗢𝗗𝗖𝗔𝗦𝗧

Once you have chosen your topic, it's time to move towards the practical workings of the podcast: planning and recording. 📼 Writing down some notes, making a few bullet points or even a detailed plan with scripted fragments of your podcast (if you feel like this is what you need) can be very useful tools to stay on the chosen track and avoid going too off-topic. To begin with the recording, you don't need any professional equipment: a microphone 🎤 and a simple sound editing software 💻 will do the job. 👌

lightbulb_outlineWhat are our top tips? 👇
✔ Focus on the sound quality 🎧: make sure you are in a quiet place and there is no echo in the room (unless you want to make use of the sounds surrounding you, it could be an idea for a creative podcast about staying efficient in a noisy work environment).
✔ Try to speak slightly slower than usual and to articulate clearly 🗣: recording can influence the clarity of your speech and you want to be sure that your audience understand you well.
✔ Record your podcast in segments ✂: this way you won't have to re-record big chunks of speech of you make a mistake or struggle with cutting it and editing.
add_shopping_cartContinue reading for free (70% left)