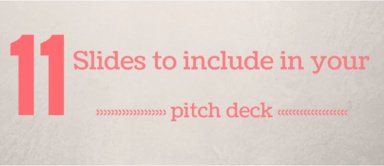 Create a Pitch Deck with These 11 Slides
When fundraising for your business, a great pitch deck is a key component. The aim is to excite & engage investors.

by Noah Parsons
Entrepreneur, product & digital marketing expert
Follow
Description
If you're fundraising for your business, one of the most important components in your toolkit will be your pitch deck. An impressive pitch deck will make investors excited about your concept and it will engage them in a chat about your business, which will hopefully lead to an investment.

The 'how-to' methodology in this tool will provide you with the formula for what Noah advises you should include in your pitch deck. Noah leverages the knowledge has has gained from listening to thousands of pitch presentations and elevator speeches. Noah has witnessed all kinds of different pitch decks and styles of presenting, and he has observed that there is a simple formula that seems to work across the board.

Noah has also built his own pitch decks that he has presented to major VC firms in Silicon Valley, and he has learned numerous things about what works and what doesn't.

Whilst each business is different, Noah has found that the format of the presentations included in this tool works for the majority of businesses and is the most likely to generate intrigue among potential investors.

The slides are available to download, however it is advised that you also read why each slide is important for the pitch.

Goals of your pitch deck

This risks sounding counterproductive, but the aim of your pitch deck isn't to raise money. Obviously this doesn't sound true, but the actual aim of your pitch deck is to reach the next meeting.

Its important to remember that your pitch presentation and pitch deck are likely the first things an investor will see with regards to your company. Due to the fact investments are rarely made after just one meeting, your aim should be to generate an interest in your company. Your goal is that investors ask you for more information after hearing your pitch.

So while a good pitch deck is crucial to fundraising, the main aim of the deck is to reach the next step- a following meeting and being asked for more information.





This Best Practice includes
3x Pitch Deck Templates 1x Explanatory Article 1x Video File
Noah Parsons offers you this Best Practice for free!
download for free
Add to bookmarks